Wisconsin Badgers predictions: Game 3 at Northwestern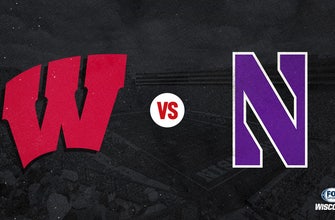 Yes, there's a lot at stake when unbeatens Wisconsin and Northwestern class Saturday.
But any fan of either team knows this wouldn't be an easy game regardless of records.
Since 2015 – the year Paul Chryst returned as Badgers head coach – these yearly matchups have been mostly close affairs.
Northwestern won in 2015 in Madison, 13-7. The following year, it was Wisconsin going on the road and winning, 21-7, and also getting the home victory in 2017, 33-24. The Wildcats took it at Ryan Field in 2018, 31-17, while UW won at Camp Randall last season 24-15.
It will be football weather in Evanston, Ill., on Saturday, which seems appropriate when these two teams meet.
Will this be a defensive battle? Well, depends who you ask. With that …
Here's this week's predictions from around the web:
The Associated Press' Ralph D. Russo: Wisconsin 24, Northwestern 20.
Pete Fiutak of Collegefootballnews.com: Wisconsin 26, Northwestern 20. "The Badgers will pull this off, but it's going to be a very tough, very nasty fight against a Northwestern team that's the absolute real deal. Wisconsin's defense will have to hold on for dear life on two late Wildcat drives with a shot at the win."
Bill Bender of The Sporting News: Wisconsin 33, Northwestern 27. "The Big Ten West lead is on the line here, and it's an interesting spot for Northwestern. These teams have split the past six meetings, and the biggest margin of victory on either side is 14 points."
Josh Slagter of MLive.com: Wisconsin 26, Northwestern 19. "This game was supposed to be Wrigley Field. Just another unfortunate pandemic casualty. The Badgers didn't miss a beat after being off for two weeks, steamrolling Michigan at the Big House. Meanwhile, the Wildcats are proving 2019 was a fluke and are back to playing Pat Fitgerald's style of ball. They're also annually a thorn in Wisconsin's side, having forced 10 total turnovers in the last three meetings. Both offenses will need some sustained drives to score, and success in the red zone likely decides the Big Ten West."
Bleacher Report's Joel Reuter:: Wisconsin 28, Northwestern 20. "The Wildcats defense is going to keep things close, and this should be a good ol' fashioned grind-it-out Big Ten game, but the Badgers have looked like the superior team to this point."
Chad Leistikow of the Des Moines Register: Wisconsin 24, Northwestern 13. "The winner here likely rules the Big Ten West, unless Wisconsin falls below the six-game threshold to qualify for the conference title game (with remaining matchups against Minnesota, Indiana and Iowa). Wisconsin's defense has only faced 22 rushing attempts per game, a number that will increase with Northwestern's patient, grinding offense."
Joe Vozzelli Jr. of the Champaign News-Gazette: Wisconsin 31, Northwestern 23. "The Wildcats have only allowed 14 points per game, but Graham Mertz and the Badgers are by far the best offense Northwestern will have faced this season."
Sam McKewon of the Omaha World-Leader: Wisconsin 24, Northwestern 14. "If you like good defense, this game's for you. Northwestern does it with elite linebackers. Wisconsin appears to be good all over, but I'm impressed with their defensive line. Nasty!"
Gabe Salgado of Athlon Sports: Wisconsin 28, Northwestern 24. "This game comes down to the wire, but the Badgers' defense and ground game give them a close victory."
The Oklahoman's Berry Tramel: Wisconsin 23, Northwestern 10.
Bruce Feldman of The Athletic ($): Wisconsin 27, Northwestern 14. "After a dominant showing against Michigan, the Badgers will face a more formidable defense, but I think Graham Mertz will handle it well. I also love how the Badgers defense looked last week."
Stewart Mandel of The Athletic ($): Wisconsin 23, Northwestern 16. "Points will be hard to come by in this one. Northwestern is allowing 14.0 per game, and Wisconsin has allowed 18 total in two contests. The Badgers aren't likely to run over a very disciplined Wildcats D, but we know they have weapons. Northwestern, while improved, remains fairly underwhelming offensively."
Andy Greder of the Pioneer Press: Northwestern 24, Wisconsin 23.
Paul M. Banks of The Sports Bank: Wisconsin 31, Northwestern 27. "It's amazing to see NU make such a rapid recovery this season after last year's disaster. They're legitimate, but have the bridged the overall talent and depth gap on their neighbors to the north? The match-up of the two Big Ten schools closest in geography should be a scintillating one and we think the final margin will be closer than the bookmakers believe."
Brad Crawford and Chris Hummer of 247 Sports: Crawford – Wisconsin 28, Northwestern 20; Hummer –Wisconsin 27, Northwestern 17.
Geoff Clark of SportsbookWire: Northwestern 19, Wisconsin 17. "The Badgers have beaten the crap out of the two bad teams/great matchups they've faced but the Wildcats are the best Big Ten team not named Ohio State or Wisconsin. Mertz looked great in Wisconsin's first game but didn't need to do much in the second game. I'll take my chances with Ramsey."
Joe DiTullio of GameHaus: Wisconsin
Mark Hasty of Go Iowa Awesome: Wisconsin 31, Northwestern 22. "If you've ever noticed, Wisconsin isn't notably more successful at Ryan Field than Iowa is, largely for the same reasons. But the Badgers are scoring points by the bucketload this season and just feel like they're playing on a different level than the Wildcats. Still, never count Fitz out of a game he knows he needs to win. This will be too close for the Badger fans, but still a bridge too far for Northwestern."
Bill Connelly of ESPN: His S&P+ projection has it Wisconsin 30, Northwestern 15.
SportsLine Projection Model: Wisconsin 26, Northwestern 16.
All three Athlon Sports analysts are picking Wisconsin to win.
Four of six analysts at USAToday.com pick Wisconsin to win.
Six of seven CBSSports.com analysts think Wisconsin will win – Dennis Dodd being the lone dissenter — and five think the Badgers will cover a 7 1/2-point spread.
Three of the four analysts at SI.com think Wisconsin will win with Pat Forde the lone dissenter.
Three of the four analysts at FootballScoop.com predict a Wisconsin victory.