Wisconsin Badgers predictions: Game 2 at Michigan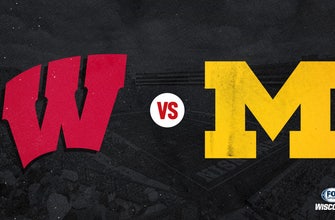 Wisconsin football is back. Again.
After a two-week hiatus from playing due to issues with COVID-19, the Badgers will take the field for the second time in the 2020 season when they face Michigan in Ann Arbor.
Just who will be suited up for Wisconsin is another story.
Head coach Paul Chryst indicated a number of players – around a dozen – likely won't be at the Big House. We'll presume wide receiver Kendric Pryor and linebacker Jack Sanborn – both of whom were made available to the media early in the week – will be among those playing.
Beyond that, your guess is a good as any.
Of course, the main focus will be on who will be at quarterback. Most expect Graham Mertz to be behind center, although neither Chryst nor offensive coordinator Joe Rudolph tipped their hand this week, saying they needed to make sure Mertz (or anyone) was ready to go despite limited practice time.
Prognosticators took that into consideration this week. Still, despite not knowing Wisconsin's actual gameday depth chart, there's a lot of confidence in the Badgers to win.
But it's certainly not unanimous.
Here's this week's predictions from around the web:
The Associated Press' Ralph D. Russo: Wisconsin 35, Michigan 24.
Pete Fiutak of Collegefootballnews.com: Wisconsin 30, Michigan 23. "Michigan usually rises up and rocks when its back is against the wall, but that was supposed to happen last week against Indiana. This is still a physical team with enough talent and weapons to start playing like it's supposed to, and there's going to be a big question mark about what kind of shape Wisconsin is in. However, this Wolverine team plays into Wisconsin's style. The Badgers held the ball for 43:28 against Illinois, and they'll have it for at least 35 minutes in Ann Arbor. The Wisconsin running game might not be quite up to its normal snuff, but a good day from Mertz and a great day from the defense will make up for that."
Bill Bender of The Sporting News: Wisconsin 28, Michigan 20. "Wisconsin returns after a three-week layoff, and it's worth noting that Paul Chryst is 0-2 at Michigan Stadium. The Wolverines, however, have issues on both sides of the ball that the Badgers can expose. If Michigan cannot run the ball, then it's going to be a long night in the Big House."
Josh Slagter of MLive.com: Wisconsin 34, Michigan 16. "How rusty is Graham Mertz? That's the only major question here, because it's clear now what Michigan is and isn't through three games. Wisconsin hasn't played since Mertz's near-perfect opener (20 of 21, 5 TDs), and has some rust to shake off, but gets to face a Wolverines secondary that has been shredded the last two games. Michigan has no mojo right now, and an near-empty Big House won't help. These teams have split their matchups over the past four years and only 2016 (Michigan won, 14-7) was a game decided by single digits."
Aaron McCann of MLive.com: Wisconsin 31, Michigan 17. "I think Wisconsin wins this game, and comfortably. Between the struggling secondary, its lack of pass rush (which took another hit this week with DE Aidan Hutchinson sidelined indefinitely due to injury) and a running game in shambles at the moment, Michigan just isn't a very good team. Wisconsin has had a long layoff, and I'm curious to see how that affects them, but there's an experience edge and talent gap between the two teams at the moment that favors the Badgers."
Ryan Zuke of MLive.com: Wisconsin 27, Michigan 24. "I have a hard time believing talented redshirt freshman Graham Mertz won't start at quarterback if he clears COVID-19 protocol. Michael Penix and Rocky Lombardi gashed Michigan's secondary the past two weeks, and Mertz might be the most talented of the three. It could be a long night if Mertz looks anything like his season debut against Illinois, when the completed 20 of 21 passes and threw for five touchdowns. If the Wolverines are going to have a chance, they need to get the run game going and sustain some long drives and keep their defense off the field. But with what we've seen so far this season, Wisconsin is looking like the better team, even if it is missing a handful of players."
Andrew Kahn of MLive.com: Wisconsin 31, Michigan 24. "Wisconsin is a bit of a mystery. Michigan is not. I won't hinge this pick on Wisconsin quarterback Graham Mertz playing; I'll just say the Badgers need to get good play from whoever is under center. Michigan's defense against the pass is a mess right now. On the other side of the ball, I think the Wolverines can get their running game back on track — perhaps with some more designed runs for Joe Milton — and maybe they hit on some deep balls. But right now, Michigan needs Milton to be elite to make up for other holes, and he's not there yet."
Bleacher Report's David Kenyon: Wisconsin 27, Michigan 20. "Michigan has surrendered back-to-back games of 300-plus passing yards and three touchdowns. That's, oh, just a massive concern as Graham Mertz and Wisconsin come to town. He threw five touchdowns in his first career start. Although the Badgers may start slowly following a three-week layoff, a reliable UW defense should hold off Michigan as Mertz and the offense settle into the game."
Chad Leistikow of the Des Moines Register: Wisconsin 31, Michigan 17. "Big Ten West hopefuls outside of Madison are big Jim Harbaugh fans this week. Can the embattled Wolverines coach bring out his team's best effort after back-to-back unexpected losses to Michigan State and Indiana? Graham Mertz's mandatory 21 days off expire Friday after his COVID-19 diagnosis, so the Wisconsin quarterback should be able to play."
Joe Vozzelli Jr. of the Champaign News-Gazette: Wisconsin 30, Michigan 21. "Remember when we were hyping up that Week 1 win by Michigan against Minnesota? Oops. Jim Harbaugh's seat gets hotter and hotter with each passing week. If you're a Wisconsin fan, you're happy to see the Badgers playing, no matter who is at quarterback."
Sam McKewon of the Omaha World-Leader: Wisconsin 30, Michigan 17. "The Badgers quarterback situation is still up in the air. Graham Mertz, Chase Wolf, some other guy? But if the Badgers' defensive line is healthy and COVID-free, Michigan will struggle to reach 100 yards on the ground."
Tom Fornelli of CBSSports.com: Wisconsin 31, Michigan 24. "I'm betting that Mertz will play, and he'll have a field day against a Michigan defense that's been torn to shreds the last two weeks. The Wolverines have little to no pass rush to speak of, and it's caused their secondary to be picked apart. Mertz might feast on the Wolverines defense the same way he did Illinois in Wisconsin's lone game. Still, I'm a lot more comfortable going with the over than the spread because there's no telling how sharp Wisconsin will be defensively after so much time off, and with Michigan in desperation mode."
Mike Bainbridge of Athlon Sports: Wisconsin 27, Michigan 24. "Graham Mertz is the key to this game, plain and simple. Michigan's secondary has been dreadful to start the year, but Wisconsin's backups are not good enough to take advantage of this susceptible group. And this isn't a Badger offense that can just simply lean on a workhorse running back like they have been able to in year's past as we noted above. With double-digit Wisconsin players in protocol right now, one of which possibly the QB, there is quite a bit of uncertainty right now how this game will shake out."
The Oklahoman's Berry Tramel: Wisconsin 27, Michigan 20.
Bruce Feldman of The Athletic ($): Michigan 27, Wisconsin 24. " The Wolverines looked awful last week, and they've been picked apart. I feel like they won't go in the tank though, and they'll be playing a Badgers team that has been in limbo for a few weeks."
Stewart Mandel of The Athletic ($): Michigan 24, Wisconsin 21. "This one's tough to call without knowing whether QB Graham Mertz will be back for the Badgers. But even if he is, he missed two-plus weeks of practice. The entire Wisconsin team was shut down for 11 days, and several guys who tested positive won't be back Saturday. I find it hard to believe that won't have an effect."
Andy Greder of the Pioneer Press: Wisconsin 21, Michigan 14.
Brad Crawford and Chris Hummer of 247 Sports: Crawford – Wisconsin 30, Michigan 24; Hummer –Wisconsin 27, Michigan 21.
Joseph Goodman, Lee Sterling and Ben Abercrombie of Al.com: Goodman – Wisconsin 33, Michigan 21; Sterling: Wisconsin 28, Michigan 20; Abercrombie: Wisconsin 35, Michigan 24.
Joe DiTullo of GameHaus: Wisconsin
Mark Hasty of Go Iowa Awesome: Wisconsin 42, Michigan 23. "Michigan can score points on a good defense. It got three tuddies against Indiana last week. It looks like Wisconsin has its usually pretty-good defense, but who can tell when there's only been one game and it was against Illinois? Nonetheless, I think Wisconsin is just better enough to take over this game and make it a long afternoon for the Wolverines."
Bill Connelly of ESPN: His S&P+ projection has it Wisconsin 31, Michigan 21.
All three Athlon Sports analysts are picking Wisconsin to win.
Five of six analysts at USAToday.com pick Wisconsin to win with Paul Myerberg the lone exception.
Only three of seven CBSSports.com analysts think Wisconsin will win and all three also think the Badgers will cover a 4 1/2-point spread.
Three of the four analysts at SI.com think Wisconsin will win with Ross Dellenger the lone dissenter.
The four analysts at FootballScoop.com are split.