Vikings Snap Counts: With Cook out, Mattison takes over as RB1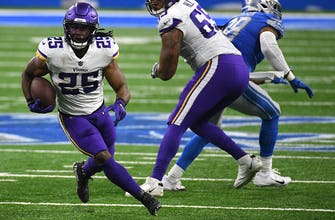 Alexander Mattison had another chance to see what life is like as an RB1 in the NFL.
With Dalvin Cook missing Sunday's game due to the death of his father, Mattison took over as Minnesota's top option in the backfield.
Mattison played 50 of the Vikings' 80 offensive snaps (62%) and rushed 21 times for 95 yards and a score. His long run of the day went for 20 yards in the second quarter.
It was the second time Mattison saw 20+ carries in a game over his two-year career. He logged 112 rushing yards on 20 attempts against Seattle in Week 5 when Cook exited with injury.
Promoted to backup running back, Ameer Abdullah tied a season-high by playing 16 snaps (20%). He didn't take a carry but caught three passes for seven yards and a score. Abdullah finished the season with 100 yards from scrimmage and two touchdowns – both against Detroit, his former team.
Mike Boone was on the field for a season-high 12 snaps (15%). He rushed five times for 29 yards.
Other notes from Sunday's snap counts:
— Second-year offensive tackle Oli Udoh made his season debut, playing two offensive snaps (1%). A sixth-round pick by Minnesota in 2019, Udoh played 31 snaps (63%) in last year's regular-season finale.
— Harrison Smith played 100% of the snaps for the 13th time this season, tallying a team-high nine tackles and one interception. Although he has three career interceptions against Detroit, it was his first time picking off Matthew Stafford. The other two came against David Blough and Chase Daniel.
— Cordrea Tankersley played his first defensive snaps for the. Vikings. A third-round pick by Miami in 2017, Tankersley was on the field for 22 of 58 snaps (38%).
— Cornerback Dylan Mabin also played his first defensive snaps for Minnesota – 19 of 58 (33%). He logged two tackles.
WEEK 17: AT LIONS (OFFENSE)
| | | |
| --- | --- | --- |
| PLAYER | PLAYS (80) | % |
| Cleveland | 80 | 100% |
| O'Neill | 80 | 100% |
| Dozier | 80 | 100% |
| Hill | 80 | 100% |
| Bradbury | 80 | 100% |
| Cousins | 80 | 100% |
| Thielen | 76 | 95% |
| Jefferson | 64 | 80% |
| Smith | 63 | 79% |
| Conklin | 57 | 71% |
| Mattison | 50 | 62% |
| Ham | 32 | 40% |
| Beebe | 20 | 25% |
| Abdullah | 16 | 20% |
| Boone | 12 | 15% |
| Johnson | 8 | 10% |
| Udoh | 2 | 1% |
WEEK 17: AT LIONS (DEFENSE)
| | | |
| --- | --- | --- |
| PLAYER | PLAYS (58) | % |
| Gladney | 58 | 100% |
| Smith | 58 | 100% |
| Harris | 58 | 100% |
| Wilson | 58 | 100% |
| Hand | 57 | 98% |
| Wonnum | 51 | 88% |
| Davis | 50 | 86% |
| Mata'afa | 45 | 78% |
| Stephen | 41 | 71% |
| Watts | 35 | 60% |
| Johnson | 30 | 52% |
| Tankersley | 22 | 38% |
| Dye | 21 | 36% |
| Yarbrough | 20 | 34% |
| Mabin | 19 | 33% |
| Brailford | 8 | 14% |
| B. Lynch | 4 | 7% |
| J. Lynch | 3 | 5% |