Vikings snap counts: Linebacker Todd Davis plays all defensive snaps against Jaguars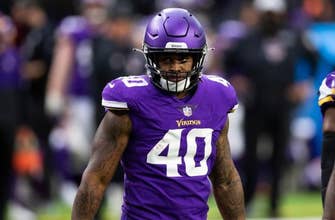 Minnesota Vikings star linebacker Eric Kendricks missed the game against the Jacksonville Jaguars with an injury during pre-game warmups and Todd Davis was forced into action as a starter.
More Vikings coverage on FOX Sports North
Davis had only registered defensive snaps in four Vikings games this season before the matchup against the Jaguars — and none since Week 6. Davis had totaled all of 50 defensive snaps on the season, with 30 coming in that Week 6 game vs. Atlanta.
Called in to start for Kendricks, Davis filled in decently as a late replacement. He played all 71 defensive snaps and finished with 11 tackles (three solo), which tied for the team high. Davis entered the game with six tackles on the season.
The last time he recorded 10+ tackles was when he was with Denver and made 13 stops in the Broncos' 16-15 Week 17 win over the Oakland Raiders last season.
Fellow linebacker Eric Wilson played all 71 snaps vs. Jacksonville as well and recorded 11 tackles and a pass defensed, while rookie Troy Dye played 18 snaps (25%) and finished with four tackles.
Davis could not provide the same level of pass coverage as Kendricks, but few linebackers are at his level in pass defense. If Kendricks misses more time, Minnesota can at least be confident in the 28-year-old Davis to step in alongside Eric Wilson.
Other notes from Sunday's snap counts:
— After missing the Vikings' 28-27 win over the Carolina Panthers because he was on the COVID-19/reserve list, wide receiver Adam Thielen played 83 of Minnesota's 91 offensive snaps (91%) against Jacksonville. He made a smooth return and finished with eight catches for 75 yards and a touchdown.
— Running back Ameer Abdullah did not record any offensive snaps in the Vikings' two previous games vs. the Dallas Cowboys and Carolina Panthers but chipped in with four plays (4%) against the Jaguars. He rushed twice for 11 yards and caught one 18-yard reception.
—  Running back Alexander Mattison did not play on Sunday due to appendix surgery. He played in all of Minnesota's games before Sunday.
—  After playing 64% of snaps against the Cowboys and 75% of snaps against the Panthers, cornerback Cam Dantzler was on the field for all of Minnesota's 71 defensive snaps. He had a great game, too, recording four tackles, a pass defensed and his first career interception.
— Defensive end Jordan Brailford only played 11 snaps (15%) in his first game with the Vikings but he made them count. He forced and recovered a fumble in the third quarter, pressured Jacksonville quarterback Mike Glennon for the fourth quarter safety and made two tackles.
— Elevated from the practice squad, defensive end Eddie Yarbrough played for the first time since Week 1. He appeared on 23 defensive snaps (32%) and made three tackles.
GAME 12: JAGUARS (OFFENSE)
| | | |
| --- | --- | --- |
| PLAYER | PLAYS (91) | % |
| Reiff | 91 | 100 |
| Dozier | 91 | 100 |
| Bradbury | 91 | 100 |
| Cleveland | 91 | 100 |
| O'Neill | 91 | 100 |
| Cousins | 91 | 100 |
| Thielen | 83 | 91 |
| Jefferson | 82 | 90 |
| Cook | 79 | 87 |
| Rudolph | 64 | 70 |
| Conklin | 59 | 65 |
| Ham | 44 | 48 |
| Beebe | 28 | 31 |
| Johnson | 8 | 9 |
| Abdullah | 4 | 4 |
| Boone | 2 | 2 |
| Dillon | 2 | 2 |
GAME 12: JAGUARS (DEFENSE)
| | | |
| --- | --- | --- |
| PLAYER | Plays (71) | % |
| Davis | 71 | 100 |
| Harris | 71 | 100 |
| Smith | 71 | 100 |
| Dantzler | 71 | 100 |
| Wilson | 71 | 100 |
| Holmes | 62 | 87 |
| Odenigbo | 53 | 75 |
| Johnson | 48 | 68 |
| Gladney | 47 | 67 |
| Stephen | 40 | 56 |
| Boyd | 35 | 49 |
| Mata'afa | 27 | 38 |
| Yarbrough | 23 | 32 |
| Hand | 21 | 30 |
| Jones | 20 | 28 |
| Watts | 19 | 27 |
| Dye | 18 | 25 |
| Brailford | 11 | 15 |
| Metellus | 2 | 3 |