Vikings Snap Counts: Blake Lynch makes unlikely start at linebacker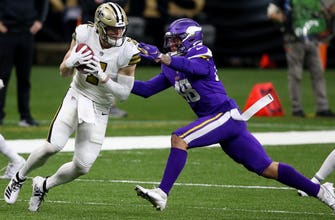 There were probably fewer unlikely candidates in training camp to start at linebacker this year for the Minnesota Vikings than Blake Lynch.
But in Week 16 against New Orleans, there was Lynch, starting and playing 72 snaps.
This speaks more to the Vikings' injury-riddled position than it does to Lynch's ascension, but let's not take away how far Lynch has come in a few short years.
Spending five years at Baylor, including a redshirt freshman season, Lynch played only two of those on defense. He was a wide receiver (catching six passes in 2017) before moving to safety as a redshirt junior. In 2019, he moved again, this time to linebacker, where he recorded 68 tackles, including 8.5 for loss with 3.5 sacks and two interceptions.
Signed by Minnesota as an undrafted free agent, Lynch spent his time this season on the practice squad. He was elevated to the gameday roster for the Week 14 contest against Tampa Bay, but saw time only on special teams.
With Eric Kendricks injured (and Anthony Barr already lost for the season), the Vikings signed Lynch to the active roster on Dec. 16. Against Chicago he again played mainly on special teams – with one snap on defense.
His role changed significantly in Week 16 at New Orleans.
Lynch was suddenly a starter, as, along with Barr and Kendricks, linebackers Todd Davis and Troy Dye were also hurt.
Lynch kept a role on special teams (appearing on 13 snaps), but also played all but two snaps on defense. He finished with a game-high 10 tackles, including seven solo.
Minnesota's defensive performance in the 52-33 loss to the Saints was nothing to brag about, but for Lynch it will certainly be a moment to remember of his incredible rise from obscurity on Baylor's offense to NFL starting linebacker.
Other notes from Friday's Snap Counts:
— In what turned into a shootout, the Vikings rushed only 17 times. Thus, Dalvin Cook had just 15 carries – his lowest since he had 14 in Week 2 – and was in on just 58% of the snaps, tied for his second-lowest percentage in a game this season.
— There was a lot of two tight-end sets as Irv Smith played 57 snaps (88%) and Tyler Conklin 55 (86%). Smith was targeted nine times (second most on the team) and had six receptions for 53 yards and two touchdowns (and nearly a third, which was broken up in the end zone). Conklin had four catches for 31 yards.
— Running back Mike Boone played just three snaps and got one touch – but he made the most of it, scoring on a four-yard run.
— Wide receiver Chad Beebe played 23 snaps (36%) and wasn't targeted once.
— Along with Lynch, Hardy Nickerson saw a lot of time at linebacker, playing 40 snaps (53%). He had five tackles and corralled an interception which bounced off the hands of Saints wide receiver Emmanuel Sanders. Nickerson hadn't played more than half the snaps in any game for the Vikings this season, his high being 48% in Week 2. He played 26 defensive snaps since that game, with 16 coming last week. It was Nickerson's most defensive snaps in a game since 2018, when he started seven games for Cincinnati.
WEEK 16: AT SAINTS (OFFENSE)
| | | |
| --- | --- | --- |
| PLAYER | PLAYS (64) | % |
| Reiff | 64 | 100% |
| Cleveland | 64 | 100% |
| O'Neill | 64 | 100% |
| Dozier | 64 | 100% |
| Bradbury | 64 | 100% |
| Cousins | 64 | 100% |
| Jefferson | 58 | 91% |
| Smith | 56 | 88% |
| Thielen | 56 | 88% |
| Conklin | 55 | 86% |
| Cook | 37 | 58% |
| Beebe | 23 | 36% |
| Abdullah | 11 | 17% |
| Johnson | 11 | 17% |
| Bargas | 7 | 11% |
| Boone | 3 | 5% |
| Hill | 3 | 5% |
WEEK 16: AT SAINTS (DEFENSE)
| | | |
| --- | --- | --- |
| PLAYER | PLAYS (75) | % |
| Wilson | 75 | 100% |
| Harris | 75 | 100% |
| Smith | 75 | 100% |
| Gladney | 74 | 99% |
| B. Lynch | 72 | 96% |
| Wonnum | 63 | 84% |
| Stephen | 53 | 71% |
| Dantzler | 52 | 69% |
| Johnson | 49 | 65% |
| Jones | 43 | 57% |
| Watts | 41 | 55% |
| Nickerson | 40 | 53% |
| Mata'afa | 37 | 49% |
| Odenigbo | 36 | 48% |
| Yarbrough | 18 | 24% |
| Hand | 16 | 21% |
| Brailford | 4 | 5% |
| J. Lynch | 2 | 3% |