Upon Further Review: Vikings kicking themselves after loss in Tampa Bay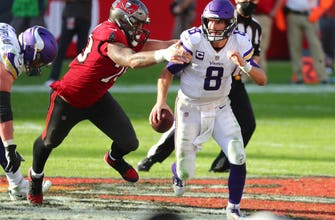 After a 1-5 start to the season, the Minnesota Vikings can't afford to make any mistakes as they climb back into the NFC playoff picture.
Kicker Dan Bailey made a mistake early Sunday, missing an extra-point attempt after a one-yard Dalvin Cook touchdown run in the first quarter. Then, Bailey made another miscue — this time, a missed 36-yard field-goal attempt. And then, he shanked two more from 54 and 46 yards.
Bailey missed four kicks in total, and the Vikings lost 26-14 to Tampa Bay to drop to 6-7 overall. The 32-year-old placekicker became the first player to miss 3+ field-goal attempts and 1+ extra-point attempt without a make of either kick since Washington's John Aveni in 1961.
In his two career games with the Vikings, former 2018 fifth-round pick Daniel Carlson nailed all six extra-point attempts and made just one of four field-goal attempts. He was cut after missing three kicks against Green Bay.
In the last two weeks, Bailey has missed three of four extra-point attempts and sailed four of six field-goal attempts wide. He might be looking for a job in Week 15.
However, Bailey doesn't deserve all of the blame.
Minnesota controlled the pace of the game early, holding possession for 12:30 of the opening 15-minute quarter. But the Vikings never made Tampa Bay pay. A 6-0 lead midway through the second quarter was erased by one Buccaneers deep ball, a 48-yard connection from Tom Brady to Scotty Miller.
The Vikings suffered their second loss of the season while having possession for 39+ minutes. No other NFL team has had such a loss in 2020.
And now, Minnesota is on the outside looking in on the NFC playoff picture. Sitting one game behind Arizona (7-6), the Vikings will likely need to win out to sneak into the postseason.
Here's a recap of Sunday's game:
PLAYER OF THE GAME
With Kyle Rudolph missing his first game since 2014, the Vikings turned to Irv Smith Jr. and Tyler Conklin to take over the workload at tight end. Smith caught four passes for a game-high 63 yards and a score, and Conklin hauled in a team-high five receptions for 40 yards. Three of Smith's receptions went for a first down or a touchdown. And Conklin moved the chains three times, with two catches occurring on third or fourth down.
DON'T FORGET ABOUT ME
C.J. Ham is the best fullback in the NFL. There is no debating this. Ham caught three passes for 22 yards, his fifth career game with 3+ receptions. But, as usual, Ham made the biggest difference away from the football. He paved the way all afternoon for running back Dalvin Cook, who carried the ball 22 times for 102 yards and a touchdown. It was the first time all season that Tampa Bay allowed a back to tally over 59 rushing yards. Cook wouldn't get there without Ham leading the charge.
THAT MOMENT
Several penalties by the Vikings defense — questionable or not — changed the outlook of the game. Leading 7-6, the Buccaneers faced a third-and-6 from Minnesota's 21-yard line in the second quarter. LeSean McCoy came up short of the marker with a catch for three yards. However, safety Harrison Smith lowered his head and brought McCoy down with head-to-head contact. The penalty gave Tampa Bay a fresh set of downs. Two plays later, a defensive pass interference call erased an interception on the goal line for rookie cornerback Jeff Gladney. The Bucs finally punched it in on a one-yard carry by Ronald Jones.
Later on, the Buccaneers started another drive at their own 28-yard line with 21 seconds to play before halftime. After using the Bucs' last timeout, Tom Brady threw a pass to Antonio Brown for a 16-yard gain in the middle of the field. Brady then rushed to spike the ball. He got the snap off in time, although there might have been a bit of home-field advantage at Raymond James Stadium as the final second of the half curiously seemed to linger a bit longer than it should have. Brady chucked up a Hail Mary to tight end Rob Gronkowski in the end zone, who couldn't make the catch but Vikings rookie Troy Dye was flagged for a questionable pass interference call. The half continued after the penalty, and the Bucs capitalized with a field goal to make it 17-6.
Nothing went in the Vikings favor. But they certainly didn't help their own cause.
THIS NUMBER
6 — The number of sacks by Tampa Bay. The Buccaneers sacked Cousins two times apiece on the Vikings' final two drives of the game. Ten different Tampa Bay defenders recorded at least one quarterback pressure on Cousins, led by Ndamukong Suh (9) and Shaquil Barrett (6). Barrett led the Bucs with two sacks.
THEY SAID IT
"If you guys want me to fire guys for making a mistake here and a mistake there, then we wouldn't have any players. Let's not put this all on Dan Bailey." — head coach Mike Zimmer
"We win as a team, we lose as a team. This league will test you, no matter what position you play. It's one day. In those games where I've thrown four interceptions and felt like you cost the team the game – I've been in that moment. What you do is you realize you're playing for the long game. It was one day. Dan's done so many great things for us this season and made a lot of big-time kicks. You don't ever want to make a bigger deal out of one day than it needs to be." — quarterback Kirk Cousins
"It's always disappointing not to get those points. Sometimes, that's part of the game. Sometimes stuff doesn't go your way. I'm just proud of the guys how they kept fighting and gave us a chance at the end to get back in it. It just didn't go our way today." – running back Dalvin Cook on the kicking woes
WHAT'S NEXT
The Vikings return home Sunday to face the Chicago Bears (6-7) for the second time this season. In the first matchup, Minnesota defeated Chicago 19-13 behind a monster day from Justin Jefferson (eight catches for 135 yards). The Bears are coming off a dominant 36-7 victory over Houston in which quarterback Mitchell Trubisky threw for 267 yards and a trio of touchdowns. A loss to the Bears would likely push Minnesota out of the playoff picture.