Upon Further Review: Turnovers doom Packers in heartbreaking loss to Colts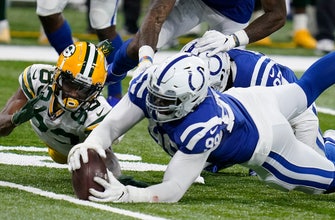 Well, at least Thanksgiving is this week.
Be thankful the Green Bay Packers are 7-3 and still lead the NFC North, but, whew, that was a tough way to lose.
Green Bay had some uncharacteristic mistakes in the first quarter but shook them off quickly and raced to a 28-14 lead at halftime.
Aaron Rodgers threw touchdown passes to Robert Tonyan, Davante Adams and Jamaal Williams while the Packers' defense limited the Indianapolis Colts (7-3) to just two scoring drives in the first half.
The road team scored just three points after that. Indianapolis, on the other hand, scored 20 points in the second half, handing a 34-31 loss to Green Bay.
Both quarterbacks put up very similar stat lines with Rodgers completing 27 of 38 passes for 311 yards, three touchdowns and one interception and Rivers going 24-for-36 with 288 yards, three touchdowns and a pick. Indianapolis rushed for 140 yards, compared to the Packers' 66 yards on the ground, but Green Bay was at least able to limit the Colts to 3.78 yards per carry.
In a game where both quarterbacks played well and both defenses were OK, it came down to turnovers. The Packers and Colts each turn it over twice in the first half, but Green Bay was not done giving it away. Darrius Shepherd fumbled on a kick return early in the fourth quarter and Marquez Valdes-Scantling coughed it up in overtime.
Both of those fumbles led to Rodrigo Blankenship field goals and it was all she wrote.
The Packers still control their own destiny and ultimately lost to a playoff team, but with the New Orleans Saints winning without Drew Brees and the Seattle Seahawks putting their best overall performance together against the Arizona Cardinals, the race to the No. 1 seed in the NFC just got that much tougher.
In a one-off postseason that most likely will not have any fans, Lambeau Field is the best home-field advantage any team could dream of. The only question is how many games the Packers will host there.
PLAYER OF THE GAME
Adams was great once again. He caught seven passes for 106 yards and a touchdown and came up with two crucial receptions for 32 yards in the Packers' final drive of regulation that ended with a field goal. Adams followed his blocks perfectly before making a cut to the end zone on his touchdown in the second quarter.
That's a @tae15adams TD! 🙌#GBvsIND | #GoPackGo

📺 FOX
📱 https://t.co/2UxGSiVlvn pic.twitter.com/D41dAyG9FT

— Green Bay Packers (@packers) November 22, 2020
DON'T FORGET ABOUT ME
Christian Kirksey made his presence known in his second game back from a pectoral injury. Green Bay's prized free-agent acquisition finished with a team-high 11 tackles, a pass defensed and also came down with a pass that was tipped by Billy Winn for his first interception as a Packer.
Christian Kirksey snags the tipped pass for an INT! #GoPackGo

📺: #GBvsIND on FOX
📱: NFL app // Yahoo Sports app: https://t.co/tUoK0wsA9N pic.twitter.com/4mSxyPGhJU

— NFL (@NFL) November 22, 2020
THAT MOMENT
Packers fans, it's going to hurt to relive this play. On Green Bay's first possession of overtime, the Packers started the drive with an eight-yard pass to Aaron Jones and looked to be in good shape. Then they ran a receiver screen to Valdes-Scantling and disaster ensued. Valdes-Scantling tried to make a move and the ball got knocked out by Colts safety Julian Blackmon. It was recovered by DeForest Buckner, and Indianapolis kicked the game-winning 39-yard field goal a few plays later.
THIS NUMBER
4 – It is tough to win games when you commit four turnovers. No other way to look at it. There were many culprits, like Valdes-Scantling in overtime and Shepherd on a kick return in the fourth quarter, but Rodgers had two of his own with a fumble and an interception in the first quarter. A good team like the Packers can get away with those against the Lions or the Jaguars, but not against a Colts team that has playoff aspirations as well.
THEY SAID IT
"I have a lot of love for Marquez." – Rodgers on his relationship with Valdes-Scantling.
"S***, I've had my fair share of fumbles. It's just bad timing." – Rodgers on the late Valdes-Scantling fumble.
"If you look at our team, we're built strong. We're gonna fight to the wire." – Kirksey on the Packers defense.
"I can live with MVS and we're going to continue to live with him and just hope that he can continue to get better and better and better, and I've got all the confidence in the world in him." – Matt LaFleur on Valdes-Scantling.
WHAT'S NEXT
The Packers will return back to Lambeau Field for a game against the Chicago Bears on Sunday Night Football. It will be the first matchup between these two teams this season. Chicago (5-5) was on its bye in Week 11 and lost 19-13 to the Minnesota Vikings the week before.