Upon Further Review: Self-destructing Vikings escape with win over Jaguars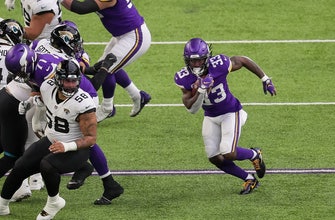 There's no such thing as an easy win for the Minnesota Vikings.
Minnesota's bout with Jacksonville in Week 13 wasn't a primetime game. It wasn't on the road. And it certainly wasn't against a playoff-caliber team. Instead, it was a noon kickoff, at home, against an inferior 1-10 opponent.
Although they exited U.S. Bank Stadium with a 27-24 victory, the Vikings nearly let another precious win slip away.
The Vikings couldn't get anything going on offense in the first half, tallying just 19 net yards in the opening quarter and punting on four of their first five possessions. They trailed 9-6 at halftime.
Despite a horrific pick-six thrown by Kirk Cousins, a fumble at the goal line by Dalvin Cook and two missed extra-point attempts by Dan Bailey, Minnesota led 24-16 before Jacksonville tied it with 1:08 to play. The Vikings had a chance to win with 13 seconds left, but Bailey shanked a 51-yard field-goal attempt — his third missed kick — to continue his miserable afternoon.
In overtime, it wasn't much prettier. Minnesota received the opening kickoff but went three-and-out after a sack and an offensive pass interference penalty. But then, the Vikings were bailed out by Jacksonville's poor quarterback play. Journeyman quarterback Mike Glennon heaved the ball down the field into the arms of Vikings safety Harrison Smith for his fourth interception of the season.
Holding its breath the entire drive, Minnesota handed the ball off to Cook on eight consecutive plays to set up a 23-yard field-goal attempt for Bailey. He nailed it to secure the win.
It had the feeling of a fluky game from the start. Linebacker Eric Kendricks, the heart and soul of the Vikings' defense, tweaked his hamstring during pregame warmups and was ruled out. On the Jaguars' opening drive, Glennon bounced a pass off the shoulder pads of Minnesota cornerback Kris Boyd into the hands of Jacksonville receiver Laviska Shenault for a 28-yard touchdown.
Self-destructing, cringy, laughable, nauseating. No matter the adjective used to describe the win, it boosted the Vikings to a 6-6 record and into the NFC's final wild-card spot. After the 1-5 start, Minnesota has won five of six games and is now in the driver's seat, able to determine its own destiny.
Here's a recap of Sunday's game (STORY | PHOTOS):
PLAYER OF THE GAME
The Vikings wouldn't have won this game without star rookie Justin Jefferson. The LSU product hauled in nine of 12 targets for 121 yards and one touchdown. It marked Jefferson's fifth game of 100+ receiving yards, breaking the Vikings rookie record of four set by Randy Moss in 1998. Jefferson also surpassed the 1,000-yard mark on the season, becoming the fifth rookie to do in just 12 games in the Super Bowl era, joining Odell Beckham Jr. (2014), Anquan Boldin (2003), Marques Colston (2006) and Moss (1998). With 1,039 receiving yards to his name, Jefferson will now chase Bill Groman's all-time rookie record of 1,473 yards, set in 1960. To do so, Jefferson will need to average 108.5 yards per game over the final four contests. We wouldn't put it past him.
The rookie does it again. #Skol

(via @NFL)pic.twitter.com/k8GgxPpg1a

— FOX Sports North (@fsnorth) December 6, 2020
DON'T FORGET ABOUT ME
With All-Pro linebacker Kendricks sidelined, Minnesota desperately needed someone to step up on defense. Rookie cornerback Cameron Dantzler answered the call. Dantzler tallied four tackles, one interception, one pass breakup, and he forced receiver Chris Conley to fumble in the fourth quarter and recovered it himself. Dantzler's first career pick changed the momentum of the game. Already ahead 9-0 — sadly, its biggest lead of the season — Jacksonville was knocking on the door of the Vikings' red zone once again in the second quarter. But Glennon's pass intended for tight end Eric Saubert ended up in the mitts of Dantzler. His big play woke up the Vikings' offense, which drove 78 yards down the field and scored on the ensuing possession. According to PFF, Glennon threw seven passes into Dantzler's coverage and completed just one for seven yards with an interception. That adds up to a passer rating of 0.0. What. A. Day.
First career interception for @camdantzler3! #Skol

(via @Vikings) pic.twitter.com/4tgqtqAvcH

— FOX Sports North (@fsnorth) December 6, 2020
THAT MOMENT
Adam Thielen made two clutch catches to keep Minnesota's hopes alive. Trailing 16-6 in the third quarter, the Vikings faced a third-and-10 from their own 36-yard line. Cousins found Thielen on a curl route for an 11-yard completion, keeping the offense on the field. Minnesota went on to score a touchdown to trim the deficit to 16-13. On the Vikings' next possession, they faced a third-and-9 near midfield. Once again, Cousins fired a pass to Thielen, who hauled it in to move the chains. Two plays later, Jefferson scored a touchdown on a 20-yard connection. Thielen finished the game with eight catches for 75 yards and a score. He surpassed the 5,000-yard career milestone, becoming the eighth player in Vikings history to do so.
Need a red zone TD?

Call 1-800-ADAM-THIELEN.

(via @Vikings)pic.twitter.com/SU0behwYby

— FOX Sports North (@fsnorth) December 6, 2020
THIS NUMBER
For the first time in franchise history, Minnesota has notched a 3,000-yard passer, 1,000-yard rusher and 1,000-yard receiver in back-to-back seasons as Kirk Cousins (3,073 passing yards), Dalvin Cook (1,250 rushing yards) and Jefferson (1,039 receiving yards) have racked up the stats this season. In 2019, it was Cousins (3,603), Cook (1,135) and Stefon Diggs (1,130) achieving the feat.
.@JJettas2. Playmaker. 😤

(via @NFL)pic.twitter.com/4kHEgOLa7e

— FOX Sports North (@fsnorth) December 6, 2020
THEY SAID IT
"Just thrilled we won the game. Ultimately, we won the game and that's all that matters. You don't want to win every game like the way we had to do it today, but we'll take the win." –quarterback Kirk Cousins
"I don't have any idea. He pushed them all, it looked like to me, but I couldn't tell if he just missed them or if the snaps — I mean, the snaps looked fine. The hold was fine. I don't know. And really, [Dan] Bailey's had a great year. I hope this was just an enigma." — head coach Mike Zimmer on Minnesota's kicking woes
"In addition to being such a capable receiver, he has a great demeanor about him during the games. He doesn't get high or low, just kind of stays the course, and he's a great teammate. I think our fan base should be excited about what he'll be able to do, hopefully for a long time." — Cousins on receiver Justin Jefferson
WHAT'S NEXT
Minnesota will head south to battle Tom Brady and the Tampa Bay Buccaneers (7-5) at 12 p.m. Sunday. Tampa Bay once looked like the team to beat in the NFC, but the Bucs have lost three of their last four games.