Upon Further Review: Kamara's record day knocks out Vikings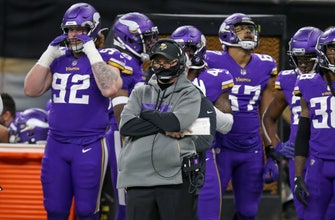 The Minnesota Vikings had a Christmas Day to forget.
Needing to win out for even a small chance at the postseason, the Vikings were officially eliminated from playoff contention Friday after a confidence-crushing 52-33 loss to the Saints.
Wearing a green cleat on his left foot and a red cleat on his right, New Orleans running back Alvin Kamara was feeling the holiday spirit. He rushed 22 times for 155 yards and six — yes, six — touchdowns. Kamara tied an NFL record for most touchdowns in a single game, which was first set by Ernie Nevers of the Chicago Cardinals in 1929.
The Vikings entered the game without their top two linebackers available in Eric Kendricks and Anthony Barr. However, rookie Troy Dye and veteran Todd Davis, who have started a combined 10 games this season, were also out due to injury. So, Minnesota turned to a rag-tag group of linebackers to try to stop New Orleans.
It did not work.
The Saints never punted. Not once. They scored touchdowns on seven of 11 drives, nailed one field goal, turned the ball over twice and finished the game in the victory formation.
Quarterback Kirk Cousins and the Vikings offense did its best to try to keep up. After New Orleans jumped out to an early lead, Minnesota brought the game to back within four points on four different occasions. But Kamara and the Saints continued to plow through Minnesota's depleted defense.
Here's a recap of Friday's game:
PLAYER OF THE GAME
Adam Thielen had a great game, catching eight of nine targets for 97 yards and a touchdown. Late in the third quarter, Thielen drew a pass interference penalty in the end zone, which moved the Vikings down to the 1-yard line. Minnesota scored two plays later to trim the Saints' lead to 31-27. It was a ball game again (for a brief minute).
DON'T FORGET ABOUT ME
Wait, we have to give out another shoutout? Oh boy. It's certainly not anyone on defense, and kicker Dan Bailey missed one of four extra-point attempts. So, we'll go with tight end Irv Smith Jr., who caught six passes for 52 yards and two scores. He now ranks third on the Vikings with five receiving touchdowns, behind rookie Justin Jefferson (7) and Thielen (14).
@swervinirvin_ so smooth.

Via @Vikings pic.twitter.com/5nEzj1hPn8

— FOX Sports North (@fsnorth) December 25, 2020
THAT MOMENT
At halftime, Kamara had rushed 12 times for 96 yards and three touchdowns. He was feeling so confident that he went up to Saints running backs coach Joel Thomas in the locker room to ask him about the NFL single-game touchdown record. The answer? Six. And Kamara went for it.
— New Orleans Saints (@Saints) December 26, 2020
THIS NUMBER
2 — The number of times New Orleans faced a fourth down. Just twice. In the second quarter, Brees missed Kamara on a short pass to potentially move the chains on third-and-6, so Saints kicker Will Lutz booted a 30-yard field goal on fourth down. In the third quarter, New Orleans faced a fourth-and-1 from Minnesota's 25-yard line, and do-it-all quarterback Taysom Hill easily reached for the first down on a QB sneak. And … that's all, folks.
THEY SAID IT
"Yeah, this is a bad defense. Worst one I've ever had." — head coach Mike Zimmer
 "I don't think being young has anything to do with tackling. They manhandled us upfront very well. We didn't tackle well. When we had chances, we didn't cover very well today. Defensive backs came off the receivers. That was disappointing." — Zimmer
"We weren't good enough on third down to extend some drives and get more points. We just weren't able to find a way to get the win. It's tough to be out of the playoffs. We feel like we let down our fans and that is disappointing and gut wrenching." — quarterback Kirk Cousins
WHAT'S NEXT
Now officially out of the playoff picture, Minnesota will finish off its up-and-down season at 12 p.m. next Sunday against Detroit. The Vikings won the first meeting between these two teams 34-20 on Nov. 8, but it's not in Minnesota's best interest to win. Losing to the Lions and dropping to a 6-10 record could push the Vikings near or into the top 10 of the 2021 NFL draft.