Upon Further Review: Gophers play to capabilities in thrashing Illinois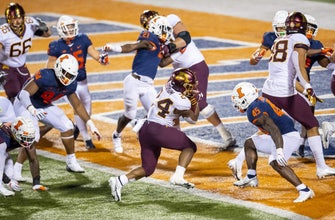 While last week was thought to be the cure which ailed Minnesota, it didn't take long to realize this time against Illinois was going to go the Gophers' way. 
Both the Gophers and Illini began the season 0-2. But Minnesota didn't look like a winless team while Illinois, well, did, as the Gophers easily earned victory No. 1 of the season, 41-14.
It was, however, a bit of a slow start for Minnesota which punted and fumbled on its first two drives. But that was followed by four straight touchdown drives to finish off the first half. 
Illinois punted on each of its first four possessions – opponents had punted just twice against Minnesota combined in the first two games – before getting on the board. 
The Gophers' defense, which had been torched in the first two contests, stepped up its game, as it should have against quarterback Coran Taylor, who looked every bit the fourth-string quarterback he is, holding Illinois to 287 yards. 
Minnesota gained 556 yards, 325 on the ground as Mohamad Ibrahim took things over in the second half, rushing for 133 of his 224 yards (which tied a career high) and three of his four touchdowns in the last two quarters to keep Illinois at bay. 
This one, for a change, went just like Minnesota liked.
Here's a recap of Saturday's game:
PLAYER OF THE GAME
While Ibrahim helped cement the game in the second half, it was a healthy dose of Rashod Bateman which got Minnesota rolling to a big lead. Bateman had eight catches for 125 yards with a touchdown … in the first half. He finished with a career-high 10 receptions for 154 yards. Bateman had four catches in each of the first two quarters, recording 73 of his yards in the opening 15 minutes. His touchdown – which was his first of the season — was a thing of beauty as he hauled in a fade in the left side of the end zone while making sure he didn't run out of bounds.
DON'T FORGET ABOUT ME
Yes, holding down Illinois isn't something to hold a parade over, but let's give credit to Minnesota for not playing down to its opponent and holding down an inferior team. Defensive end Boye Mafe helped lead the charge with a six tackles, tied for the team high, two of the team's four sacks and a forced fumble.
THAT MOMENT
After failing on its first two drives, Minnesota executed some big plays on the third drive, resulting in the game's first score and helping getting the Gophers' train going. They converted three third-down plays on that drive – and each was third-and-5 or greater. On third-and-6 from the 11, Tanner Morgan hit Bateman for a 32-yard pass and catch, with the wideout spinning away to get extra yards. No completion there and Illinois would have had good field position and who knows how the game would h have gone. Later in the drive, on third-and-8 from the Minnesota 45, Morgan, nearly sacked and surrounded by Illinois defenders, flipped the ball to Ibrahim, who then raced 22 yards. Ibrahim also gained 19 yards on a third-and-5 to set Minnesota up in the red zone. Amazingly, the Gophers wouldn't have a third down again until the third quarter. It was full steam ahead after that drive.
THIS NUMBER
224 and 4. For the second straight game Ibrahim topped 200 yards and rushed for four touchdowns.  That made him the first Big Ten player with back-to-back games with 200+ yards and four TDs since Penn State's Larry Johnson in 2002. Ibrahim is also the second Gophers running back with back-to-back 200-yard games (Terry Jackson II, Oct 10 and 19, 2002).
THEY SAID IT
"I think is one of the most special backs in America. And when you see him walking down the street you wouldn't think he's a Big Ten running back. He's not the biggest not the strongest not the fastest but he's got incredible vision. … He can see and feel blocks and holes and he's got a great spatial awareness about him and he plays so low, with a a center of gravity and he's explosive and strong." — Head coach P.J. Fleck on Ibrahim
"We actually had a team meeting last night, which is kind of a funny team meeting, but I read them a book. "Everyone Poops." I know that sounds crazy, but because we didn't play very well but food can be used as fertilizer. … The poop is actually manure. It can help with crops and the best fruit and vegetables and that's what we talked about last night. You guys know me, I'm an elementary school teacher at heart. So I think everybody's read that book to their children and some point. So it was a very unique team meeting, but I think we got the message across." — Fleck
"That's coach Fleck. It hit perfect. … I think our guys took to it." – Morgan on Fleck reading "Everybody Poops" to the team
"I mean, he's huge. He's used playmaker so we had opportunities, getting the ball in our coaches did a great job of being able to a scheme stuff up to get them opening and get him touches in his hand, and you did a great job getting open and making plays." — Morgan on Bateman
"The defense was was flying around today and we're really cleaned up our details. This week, and I was the point of emphasis and coach Fleck talked about. It was just growing. … We really fought and we drew a line in the sand and and it showed." — linebacker Mariano Sori-Marin
WHAT'S NEXT
It's another Friday night game for Minnesota, which will host Iowa for a 6 p.m. kickoff. The Hawkeyes also won their first game of the season in convincing fashion, blowing out Michigan State 49-7. Iowa lost a pair of close games – 24-20 at Purdue and 21-20 to Northwestern – to open the year.