Timberwolves will sign Malik Beasley to four-year deal worth $60 million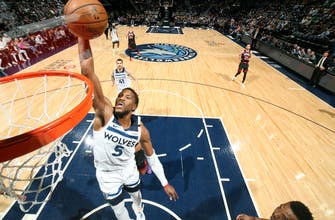 The Timberwolves reached a $60 million agreement with restricted free agent shooting guard Malik Beasley that's for three years plus a team option for a fourth year, a person with knowledge of the deal confirmed to AP.
More Timberwolves coverage
Beasley, who was acquired from the Denver Nuggets in a four-team trade in February, was charged last month with drug possession and threats of violence in Hennepin County District Court, after allegedly aiming a rifle at a family in their vehicle outside his Minnesota home where a large amount of marijuana and other guns were seized during a police search.
Beasley averaged 20.7 points in 14 games after arriving in Minnesota.
The Timberwolves also finalized and confirmed three draft-night trades, including the deal with Oklahoma City reuniting them with point guard Ricky Rubio.