Timberwolves' Towns out vs. Lakers with dislocated wrist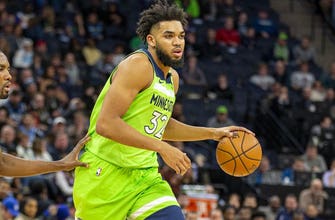 Minnesota Timberwolves center Karl-Anthony Towns will miss Sunday's game against the Los Angeles Lakers with a dislocated left wrist, the team announced.
More Timberwolves coverage
Towns first suffered the injury in the fourth quarter of the Timberwolves' 116-111 win over the Utah Jazz on Saturday. He underwent an MRI in Los Angeles and it showed that Towns' injury is a wrist dislocation that will not require surgery.
The two-time All-Star will be re-evaluated weekly.
Towns is averaging 22.6 points, 11.5 rebounds and 5.0 assists in two games this season.