Timberwolves NBA draft profile: Theo Maledon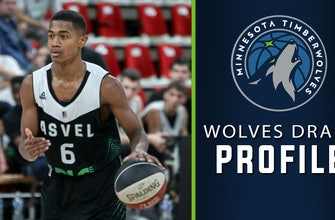 Winter is approaching and the days are getting shorter. That means the 2020 NBA season is almost here!
Due to the redone 2020 season schedule, the NBA draft will be held Nov. 18 while the 2020-21 season will begin Dec. 22.
The Minnesota Timberwolves own two picks in the first round: the top overall selection as well as No. 17. Who might they be interested in at No. 17?
In this edition, we take a look at Theo Maledon, a combo guard from France.
Wolves NBA draft prospect profiles
OVERVIEW
The 19-year-old Maledon made his professional debut in 2017-18 for Lyon-Villeurbanne of the LNB Pro A league in France at the ripe age of 16. He's been balling ever since. In 2018-19, Maledon averaged 7.4 points and 2.2 assists per game for Lyon-Villeurbanne and became the youngest player to be named to a French Pro A All-Star game. Last season, a shoulder injury limited his availability, but Maledon still registered 7.4 points and 3.1 assists per game while shooting 45.6% from the field for LDLC ASVEL of the EuroLeague. While those numbers don't necessarily jump off the page, Maledon only played 17.7 minutes per game. His per-36 stats: 15.1 points, 6.4 assists and 3.6 rebounds per contest.
The last foreign player (with no NCAA experience) Minnesota drafted in the first round was Spanish guard Ricky Rubio in 2009.
COMBINE
Maledon spoke with the media at the combine but his results were not available.
MEASURABLES (via nba.com)
Height: 6-foot-5
Weight: 180 pounds
Wingspan: 6-8
FILM ROOM
WHAT THEY'RE SAYING
"With his solid shooting form and smooth follow-through, Maledon hits from all three levels on the court. He could stand to improve the quickness of his release as he often needs to be open in order to hit outside shots. He has excellent footwork around the hoop, displaying a variety of crafty moves and a nice touch when using the floater. His unleashed talent has only come in glimpses, but he needs to become more aggressive on the offensive end while continuing to get more consistent shooting from deep." — NBA.com
"Maledon is a nice open court player and rangy athlete. He's kind of long-strider but also has burst and short area quickness. His first step and ability to get downhill and find angles to the basket is impressive. He's got touch around the rim and a nice array of one-foot floaters and runners. At 6-5, he's got ideal combo guard size. His jumper is compact and smooth and shows promise." – NBA Draft Room
Theo Maledon played for Tony Parker's team in the French Pro A League. Would he be a good fit for the #Timberwolves at No. 17 overall?@Stadium's @GoodmanHoops breaks it down.

Read ➡️ https://t.co/NfGDpIm5lD pic.twitter.com/x0uqpeL3Sy

— FOX Sports North (@fsnorth) November 12, 2020
"Potential to defend 1 and some 2s (if he gets stronger and plays more physically). His length gives him lineup versatility, but he has to add strength and play more physically than he currently does – this would allow him to defend some 2s. His limited athleticism lowers his defensive ceiling and his footwork needs a lot of work, too – will likely have issues defending quicker PGs and more physical Gs. Not switchable against bigs, if he gets stronger maybe against some smaller 3s. Flashes of nice IQ / rotations, but needs to be more consistent. Also needs to improve positioning and use length, better." – Spencer Pearlman of The Stepien
HOW HE FITS
There's no question the Timberwolves need depth behind D'Angelo Russell at point guard. At 6-5, Maledon could play both point guard and shooting guard for Minnesota. With Russell and former undrafted signee Jordan McLaughlin at the 1, the Timberwolves don't have a pass-first point guard on their roster. Maledon's athleticism and court vision make up for his average shooting ability, although he showed progress from deep with LDLC ASVEL last season with a 36.7% 3-point percentage. He likely wouldn't be a big contributor as a rookie and would need several years to develop into a solid NBA guard, but if the young Timberwolves have one thing, it's time.