StaTuesday: Timberwolves' Beasley heats up NBA All-Star campaign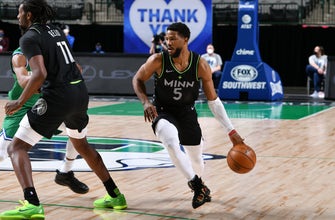 The Minnesota Timberwolves are at the bottom of the Western Conference with a 6-18 record, so surely they won't have any NBA All-Star, right?
Well not if Malik Beasley has anything to say about it. The Minnesota shooting guard has been on fire as of late, most recently with a 30-point outing in the Timberwolves' 127-122 loss to the Dallas Mavericks.
Beasley was actually having a rather pedestrian game before the fourth quarter, when he scored 22 points and knocked down six triples in the final 12 minutes, the latter of which is something that had only ever been done once before in franchise history.
More Timberwolves coverage
James Robinson also hit six 3-pointers in the fourth quarter of Minnesota's road 108-96 loss to the Cleveland Cavaliers on Dec. 20, 1996.
Interestingly, former Timberwolf Zach LaVine did it in 2019 and J.R. Smith accomplished the feat three times.
Robinson does own the Timberwolves' record for most points in a fourth quarter in franchise history by scoring 23 in the fourth quarter of that game. Beasley's 22 points are second most.
The most points in any quarter of a game in Minnesota history came from Chauncey Billups on Feb. 19, 2002, when he had 24 points in the third quarter of the Timberwolves' 117-100 victory over Dallas.
Back to Beasley, whose fourth-quarter outburst was far from a fluke. Through 24 games this season Beasley has recorded 20.5 points and 5.2 rebounds per game while connecting on 38.5% of his 3-point shots.
The Florida State product has stepped up his play in the last 10 games, too. He has scored at least 22 points in seven of those contests (reaching 30 points twice) and shot at least 44% from deep in six of those games.
It has all added up to Beasley being tied for 14th in made 3-pointers this season with 3.1 per game. Of the 12 players with more 3-pointers made than him entering NBA play Tuesday, Beasley's 38.5% is higher than Damian Lillard (38.4%), Buddy Hield (37.3%) and Fred VanVleet (37.9%).
Beasley has a lot of competition to make his first All-Star team, so his recent hot stretch may not be enough to get a spot in the loaded Western Conference. It also doesn't help that Minnesota has the second-worst record in the NBA, but he has at least made the four-year, $60 million contract he signed in the offseason look like a good investment and has put his name on the map in 2021 when he struggled to get on the court at times with the Denver Nuggets last season.
Statistics courtesy of Stathead.com
20-point quarter games in Timberwolves history
| | | | | |
| --- | --- | --- | --- | --- |
| PLAYER | DATE | QUARTER | OPPONENT | POINTS |
| Chauncey Billups | 2/19/02 | Q3 | @ DAL | 24 |
| James Robinson | 12/30/96 | Q4 | @ CLE | 23 |
| Karl-Anthony Towns | 2/28/19 | Q1 | @ IND | 23 |
| Malik Beasley | 2/8/21 | Q4 | @ DAL | 22 |
| Kevin Love | 2/22/14 | Q3 | @ UTA | 22 |
| Kevin Love | 4/14/14 | Q1 | @ GSW | 22 |
| Latrell Sprewell | 1/26/05 | Q3 | ATL | 22 |
| Wally Szczerbiak | 4/13/03 | Q3 | CHI | 22 |
| Karl-Anthony Towns | 11/30/16 | Q1 | NYK | 22 |
| Ricky Davis | 4/15/07 | Q4 | @ GSW | 21 |
| Kevin Love | 2/1/14 | Q4 | @ ATL | 21 |
| Stephon Marbury | 1/30/98 | Q3 | @ LAL | 21 |
| Mo Williams | 1/13/15 | Q4 | @ IND | 21 |
| Jimmy Butler | 12/3/17 | Q4 | LAC | 20 |
| Troy Hudson | 3/12/03 | Q3 | SAS | 20 |
| Zach LaVine | 4/11/15 | Q4 | @ GSW | 20 |
| Karl-Anthony Towns | 1/9/17 | Q1 | DAL | 20 |
| Karl-Anthony Towns | 1/2/19 | Q3 | @ BOS | 20 |