Sixth-ranked Michigan gets hot, hands No. 14 Badgers 5-2 loss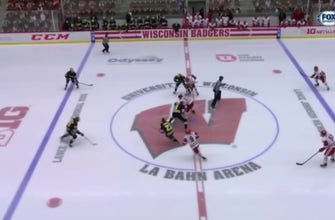 With three goals in the second period, No. 6 Michigan took control of the game and finished off the 14th-ranked Wisconsin Badgers 5-2 on Thursday night.
Wisconsin senior Josh Ess started the scoring with his first goal of the year, slipping one past Wolverines goaltender Strauss Mann for a 1-0 Badgers lead.
.@JoshuaEss finds twine! 🚨@BadgerMHockey leads Michigan 1-0 on @fswisconsin. pic.twitter.com/oK92vTH039

— FOX Sports Wisconsin (@fswisconsin) November 20, 2020
But the Wolverines exploded after the intermission, scoring a trio of goals off the sticks of Brendan Brisson, Eric Ciccolini and Michael Pastujov. Heading into the final period, Michigan led 3-1.
One minute into the third period, Wisconsin took advantage of an early power play as Linus Weissbach put the Badgers back within one goal. But the Wolverines had an answer, scoring on a power play at the 16:02 mark and added an empty netter in the final minute.
Wisconsin drops to 2-1 after the loss, and Michigan improves to 3-0.
The Badgers and Wolverines return to the ice 6 p.m. Friday night to cap off the two-game set. The game will be televised on FOX Sports Wisconsin.