Royals request unconditional release waivers on Sparkman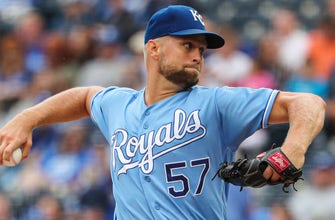 The Kansas City Royals have parted ways with Glenn Sparkman, requesting unconditional release waivers on the right-hander.
Sparkman compiled a 5.40 ERA in four games (five innings pitched) in 2020. He was much busier in 2019, making 31 appearances, including 23 starts, en route to a 4-11 record with a 6.02 ERA. One of his starts was a complete game shutout of the White Sox.
Overall, Sparkman was 4-14 with a 5.67 ERA in 50 games (26 starts) for Kansas City from 2018-20.
The Royals selected Sparkman in the 20th round of the 2013 draft, then lost him to Toronto in the Rule 5 draft in December 2016. The Blue Jays returned him to the Royals in July 2017.