Rays acquire 4 players from Padres in exchange for LHP Blake Snell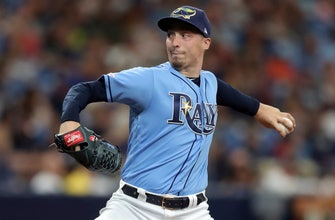 ST. PETERSBURG, Fla. — The Tampa Bay Rays have acquired right-handed pitcher Luis Patiño, catcher Francisco Mejía, minor league catcher Blake Hunt and minor league right-handed pitcher Cole Wilcox from the San Diego Padres in exchange for left-handed pitcher Blake Snell.
Snell, 28, departs the Rays with a career 42-30 (.583) record, a 3.24 ERA (556-IP, 200-ER) and 648 strikeouts in 108 starts over five seasons (2016-20). He ranks among the top five in franchise history in strikeouts (fifth), ERA (second to David Price), opponents' avg. (.223, first) and winning pct. (third). In 2020, he went 4-2 with a 3.24 ERA (50-IP, 18-ER) in 11 regular season starts, then went 2-2 with a 3.03 ERA (29.2-IP, 10-ER) over six postseason starts. Facing the Los Angeles Dodgers in the World Series, he became the third left-handed pitcher to record nine strikeouts (or more) twice in a single Fall Classic, joining Sandy Koufax of the Dodgers (three times in 1965) and Hal Newhouser of the Detroit Tigers (twice in 1945).
Snell enjoyed his best season in 2018, when he captured the American League Cy Young Award after going 21-5 with a 1.89 ERA (180.2-IP, 38-ER) and 221 strikeouts. He joined Price (2012) as the second in club history to win the honor. He led the AL outright in wins and ERA, both club records that still stand, and became the first AL pitcher to achieve that combination of wins and ERA since Ron Guidry of the New York Yankees in 1978. He went 10-1 with a 1.27 ERA at Tropicana Field, the lowest home ERA by an AL pitcher since Nolan Ryan (1.07) of the California Angels in 1972—before the advent of the designated hitter. Also in 2018, Snell was named AL Pitcher of the Month for August and September, won the Don Zimmer Award (given to the club's Most Valuable Player) and was named to his first All-Star Team. He was selected by the Rays in the supplemental first round (52nd overall) of the 2011 June Draft out of Shorewood (Wash.) High School.
Patiño (pah-TEEN-yo), 21, ended the 2020 season ranked by FanGraphs as the No. 10 overall prospect in the minors and by Baseball America as the No. 16 overall prospect in the minors. The 6'1″, 190-pound righthander made his major league debut in 2020, appearing in 11 games (one start) over three stints in the regular season and three games in the postseason. He debuted on August 5 at 20 years, 284 days and was the youngest pitcher to appear in a regular season game in 2020. He went 1-0 with a 5.19 ERA (17.1-IP, 10-ER) and 21 strikeouts in the regular season, averaged 96.7 mph on 226 fastballs thrown and reached a maximum velocity of 100.3 mph, according to StatCast. He is 16-13 with a 2.35 ERA (234-IP, 61-ER) and 279 strikeouts in 50 appearances (48 starts) over parts of three minor league seasons. In 2019, he advanced from Class-A Lake Elsinore to Double-A Amarillo, going 6-8 with a 2.57 ERA (94.2-IP, 27-ER) in 20 appearances (19 starts) between the two levels. He represented the Padres in the Futures Game in July, retiring all five batters faced and recording back-to-back strikeouts to escape an inherited jam in the 7th inning. He was signed by the Padres on July 2, 2016 out of Colombia.
Mejía (meh-HE-uh), 25, spent parts of the last four seasons in the majors and is a career .225/.282/.386 (75-for-334) hitter with 12 home runs and 33 RBI in 128 games. In 2020, the switch-hitter appeared in 17 games and made 12 starts for the Padres, missing a month with a left thumb contusion. He was acquired by the Padres in July 2018 from the Cleveland Indians in exchange for relief pitchers Adam Cimber and Brad Hand. In September 2018, he homered twice in his first start as a Padre (September 6 at Cincinnati) and hit a walk-off grand slam in his sixth start (September 16 vs. Texas)—the second by a rookie in Padres history. He was selected to the Futures Game roster in three consecutive seasons from 2016-18. He ranked among Baseball America's Top 50 overall prospects in the minors for three straight years (2017-19), reaching as high as No. 20 entering the 2018 season. In 2016, he hit safely in 50 consecutive games in Cleveland's system, the longest streak for a minor leaguer since 1954. He is a .295/.349/.462 (587-for-1,988) hitter with 58 home runs and 325 RBI in 527 games over parts of seven minor league seasons. He was signed by the Indians on July 2, 2012 out of the Dominican Republic.
Hunt, 22, was added to the Padres 60-man player pool for the 2020 season on September 3. He did not appear in the majors but played in the Instructional League in October. He is currently ranked by MLB.com as the No. 14 prospect in the Padres organization. He spent the 2019 season with Class-A Fort Wayne, where he hit .255/.331/.381 (85-for-333) with five home runs and 39 RBI in 89 games. He was tabbed by Baseball America as the Best Defensive Catcher in the Padres system following the 2019 season. He was a Competitive Balance Round B selection of the Padres in the 2017 June Draft out of Mater Dei (Calif.) High School and is a career .258/.341/.384 (169-for-656) hitter with 10 home runs and 83 RBI over parts of three minor league seasons. He committed to play at Pepperdine University before signing with the Padres.
Wilcox, 21, was selected by the Padres as a draft-eligible sophomore in the third round of the 2020 June Draft out of the University of Georgia. He received a $3.3 million signing bonus, setting a draft record for a third-round pick. He was added to the Padres 60-man player pool for the 2020 season on June 30. He did not appear in the majors but pitched in the Instructional League in October. He is currently ranked by MLB.com as the No. 7 prospect in the Padres organization. The 6'5″, 230-pound righthander was No. 23 in the MLB.com rankings of 2020 Draft prospects and No. 24 by Baseball America. He went 3-0 with a 1.57 ERA (23-IP, 4-ER) in four starts for Georgia during the pandemic-shortened 2020 season and was on the watch list for USA Baseball's Golden Spikes Award, which honors the top amateur baseball player in the country.