Purdue DE Karlaftis tests positive for COVID-19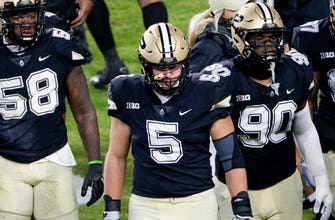 Purdue will be without starting defensive end George Karlaftis for three weeks after he tested positive for COVID-19.
A statement from the school's athletic department said the sophomore is self-isolating at home. Karlaftis' first test Tuesday morning came back positive and a subsequent PCR test confirmed the result, the statement said.
Big Ten guidelines require players who test positive to sit out 21 days, which would keep Karlaftis out of the Boilermakers' three remaining scheduled games — Rutgers, Nebraska and rival Indiana. He could return for the conference's ninth regular-season game against a yet-to-be- determined opponent, and he would also be able to play in a bowl game.
Karlaftis left the Illinois game in Week 2 with an undisclosed injury and hasn't played since.