Portis bringing energy off the Bucks bench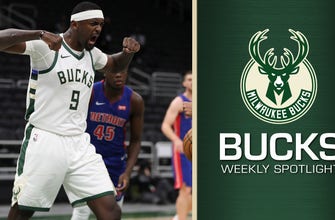 Welcome to the 2020-21 edition of the Bucks Weekly Spotlight. Each Thursday, we'll track the progress of the players who are trying to help Milwaukee make a championship run and give updates on other players from the previous week.
This is the 2nd edition of the 2020-21 Bucks Weekly Spotlight.
SPOTLIGHT ON …
Center/Forward Bobby Portis
Signing superstar Giannis Antetokounmpo to a supermax contract extension and trading for Jrue Holiday were the two biggest moves of the Milwaukee Bucks' busy offseason. There is no disputing that.
Twelve games into the 2020-21 season, it looks like Milwaukee signing 6-foot-10 center/forward Bobby Portis is its most underrated move.
Portis, inked to a two-year deal by Milwaukee (with a player option in the second season), has made quite the first impression. The 25-year-old has registered 11.8 points per game and ranks second on the team in rebounds per contest (7.8). Portis has also scored 10+ points in 10 of 12 games and has racked up four double-doubles.
Milwaukee is 0-2 when Portis scores fewer than 10 points, and is 8-2 when he logs double figures.
The key term with Portis this season is efficiency. Portis is averaging just 2.3 attempts from 3-point range per game — his lowest mark since 2016-17 (1.5) — but Portis is draining them at a career-best 40.7% clip (11 of 27).
While on the floor, he's used on 18.4% of Milwaukee's offensive possessions, which ranks sixth on the team, but is second with a true shooting percentage of 63.2% and is third with an offensive rating of 125 among players with 150+ minutes.
And he does it on both sides of the ball. According to Basketball Reference, Portis owns the second-best defensive rating (105) among Bucks players with 100+ minutes.
BUCKSHOTS
— With 22 points, 10 rebounds and 10 assists Wednesday night against Detroit, Giannis Antetokounmpo posted his second triple-double of the season and the 20th of his career. He had four triple-doubles in 2019-20.
— Thanasis Antetokounmpo is seeing the most playing time of his NBA career. He's appeared in 11 of 12 games and is averaging 2.5 points, 2.2 rebounds and 1.1 assist in 10.8 minutes per contest. Last season, the elder Antetokounmpo brother on the Bucks averaged 6.5 minutes in 20 games.
— Bryn Forbes has also been a spark off the bench for Milwaukee. He's notched double figures in five contests and is averaging 11.8 points per game. Over the last two contests, Forbes has drained 6 of 8 attempts from 3-point range.
— Khris Middleton cooled off a bit Wednesday night against the Pistons with 12 points on 1-of-5 shooting from downtown, but the 29-year-old is posting big numbers overall. In his previous six contests, Middleton had nailed 17 of 32 attempts (53.1%) from 3-point range. He ranks second among players with 100+ attempts from the field with an effective field-goal percentage of 63.3%.
— Pat Connaughton is tallying 80% of his points from the 3-point line this season, which is the fifth-highest clip in the NBA.