Pistons finish preseason with loss to Wizards (WITH VIDEO)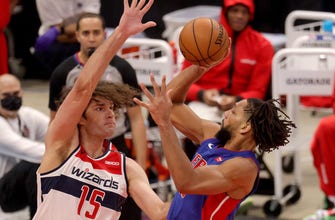 WIZARDS 99, PISTONS 96
At Washington, Russell Westbrook finished with eight points in 17 minutes, Thomas Bryant scored 22 and Bradley Beal added 15 for the Wizards.
Jerami Grant and Derrick Rose each scored 14 for the Pistons. Josh Jackson had 13 points, and Detroit got 11 apiece from Blake Griffin, Killian Hayes and Sviatoslav Mykhailiuk.
In the first half, Detroit committed 15 turnovers that led to 17 points for Washington, but had just five miscues in the second. The Wizards led by 14 at halftime.
The Pistons tied it at 89-all on Mykhailiuk's dunk, and the Wizards called timeout before Jerome Robinson and Troy Brown Jr. each hit a 3 to push the Washington's lead to 95-89.
Washington, which was missing forward Rui Hachimura due to an eye irritation, scored 40 points in the paint.