Packers Snap Counts: Green Bay survives a cornerback shuffle vs. Jaguars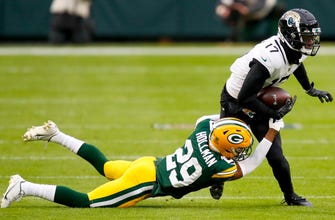 The Green Bay Packers' depth was tested in their 24-20 win over Jacksonville on Sunday.
Green Bay was without its top two cornerbacks against the Jaguars. Kevin King, who hasn't played since Week 4 due to a quad injury, remained out. Jaire Alexander, a rising star in the Packers defense, was on concussion protocol all week and was forced to miss a game for the first time since his rookie 2018 campaign. He'd played at least 90% of the snaps in the Packers' first seven contests before exiting the Week 9 clash against San Francisco in the second quarter.
More Packers coverage from FOX Sports Wisconsin
For the first time in his career, Chandon Sullivan played 100% of the defensive snaps. Third-year cornerback Josh Jackson, who has started all five games in King's absence, was on the field for 60 of 64 (94%). But it was second-year defensive back Ka'dar Hollman, a 2019 sixth-round pick by Green Bay, who rose to the occasion.
Hollman played a career-high 51 snaps against Jacksonville. Heading into the Week 10 tilt, Hollman had been on the field for a combined 48 defensive snaps in 2020. He played four snaps all of last season. So, in one game, Hollman nearly doubled his experience on the field.
Fortunately for the Packers, Jacksonville's offense doesn't strike fear into the souls of opposing defenses. Rookie Jake Luton was making his second career start and completed just 51.4% of his passes (18 of 35) for 169 yards, one score and one interception. D.J. Chark, the Jaguars' top receiver, was held to four catches for 56 yards.
According to Pro Football Focus, Luton targeted Jackson twice in coverage, resulting in two receptions for 28 yards. Hollman, on the other hand, was targeted seven times. Opposing receivers hauled in just four of those seven targets for 54 yards.
Hollman collected four tackles and one pass defensed, as he batted down a throw intended for receiver Chris Conley late in the fourth quarter.
The Packers are certainly hoping for Alexander to return to the field soon, but Hollman proved he's capable of holding down the fort until that occurs.
Other notes from Sunday's snap counts:
— Marquez Valdes-Scantling played 60 of the Packers' 65 offensive snaps (95%), which was more than any player aside from quarterback Aaron Rodgers and the offensive line. Valdes-Scantling caught four passes for 149 yards and a touchdown.
— Davante Adams briefly exited the game with an ankle injury in the third quarter. Adams fought through the pain to return to the field, and he made the go-ahead six-yard touchdown catch with 3:37 to play. Adams was active for 53 snaps (82%) and hauled in eight passes. Those eight catches helped him surpass Don Hutson for fifth place in Packers history with 492 receptions. Adams trails only Donald Driver (743), Sterling Sharpe (595), Jordy Nelson (550) and James Lofton (530) in the Green Bay annals.
— Wide receiver Juwann Winfree, a 2019 sixth-round pick by Denver, was elevated from the Packers' practice squad prior to Sunday's game. He played seven snaps (11%) but was not targeted.
— Linebacker Christian Kirksey, who missed the Packers' last five games due to a pectoral injury, returned Sunday and played all 64 defensive snaps. The 28-year-old led Green Bay with seven tackles.
— After missing last game on the COVID-19 list, rookie linebacker Kamal Martin was activated from it ahead of Sunday's game. He played 13 snaps (20%). He did not record any statistics but turned heads by trucking Jacksonville running back James Robinson on a blitz.
WEEK 10: VS. JAGUARS (OFFENSE)
| | | |
| --- | --- | --- |
| PLAYER | PLAYS (65) | % |
| Patrick | 65 | 100% |
| Jenkins | 65 | 100% |
| Rodgers | 65 | 100% |
| Turner | 65 | 100% |
| Linsley | 65 | 100% |
| Bakhtiari | 65 | 100% |
| Valdes-Scantling | 60 | 92% |
| Adams | 53 | 82% |
| Jones | 41 | 63% |
| Tonyan | 40 | 62% |
| Williams | 31 | 48% |
| St. Brown | 31 | 48% |
| Lewis | 26 | 40% |
| Sternberger | 20 | 31% |
| Taylor | 8 | 12% |
| Ervin | 8 | 12% |
| Winfree | 7 | 11% |
WEEK 10: VS. JAGUARS (DEFENSE)
| | | |
| --- | --- | --- |
| PLAYER | PLAYS (64) | % |
| Sullivan | 64 | 100% |
| Kirksey | 64 | 100% |
| Amos | 64 | 100% |
| Savage | 61 | 95% |
| Jackson | 60 | 94% |
| Clark | 57 | 89% |
| Z. Smith | 53 | 83% |
| P. Smith | 52 | 81% |
| Hollman | 51 | 80% |
| Lowry | 39 | 61% |
| Greene | 39 | 61% |
| Gary | 31 | 48% |
| Lancaster | 22 | 34% |
| Keke | 14 | 22% |
| Adams | 14 | 22% |
| Martin | 13 | 20% |
| Burka | 5 | 8% |
| Scott | 1 | 2% |