Packers fantasy football outlook: Lazard due for a breakout week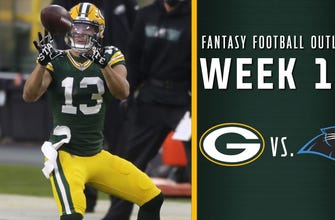 If you're reading this article, chances are you've made it to the semifinals of your fantasy football league. Congratulations. But there's still work to be done.
You have big decisions to make on who you'll start and who you'll leave on the bench. Are there any Green Bay Packers or Carolina Panthers players worth putting in your starting lineup? We're here to help.
Players are graded on a 1-5 scale of football emojis, from "don't even think about starting him" (🏈) to "you're a fool if you bench this guy" (🏈🏈🏈🏈🏈).
Here's how Week 15 shakes out:
GREEN BAY PACKERS
QB Aaron Rodgers: 🏈🏈🏈🏈🏈
Not only is Rodgers the frontrunner for NFL MVP, but he also should be named fantasy football MVP. Rodgers has tossed 3+ touchdowns in the last four games and seven of his last eight. Carolina has surrendered 3+ passing scores to quarterbacks in four of its last five contests, including a career game (280 yards, four TDs) to Denver's Drew Lock last week. Delicious.
More Packers coverage from FOX Sports Wisconsin
RB Aaron Jones: 🏈🏈🏈
The Panthers were horrendous against the run to start the season, but Carolina has improved in the last few weeks. Aside from Ronald Jones' big game in Week 10 (23-192-1), no running back has topped 65 rushing yards against Carolina since Week 8. Minnesota's Dalvin Cook tallied 82 total yards on 22 touches in Week 12. So, start Jones, of course. But don't expect Derrick Henry-like production.
WR Davante Adams: 🏈🏈🏈🏈🏈
It doesn't matter if Adams is squaring off against the '85 Bears or the Little Giants. You're starting him. But we'll throw out some stats just for fun. Adams has scored a touchdown in eight straight games. If he finds the end zone against the Panthers, Adams will tie A.J. Green (2012) for the second-longest streak in NFL history at nine contests. (Jerry Rice hauled in a touchdown reception in 12 straight games in 1987 and holds the record to this day.)
WR Marquez Valdes-Scantling: 🏈
Do not be tempted by Valdes-Scantling's stat line last week. Do not. He caught a season-high six passes for 85 yards and a touchdown against Detroit. This is still the same receiver who caught exactly zero passes on two targets over Week 12 and Week 13 combined. If you're playing in a daily fantasy league, sure! Roll the dice on Valdes-Scantling and hope for a home run. But there's no trusting the fantasy production of MVS in a league semifinal. No way.
WR Allen Lazard: 🏈🏈🏈
Since returning from injury in Week 11, Lazard is averaging 4.3 targets, 2.8 catches and 27.5 yards per game. That's not great. But hear us out. Carolina is a middle-of-the-road unit against the wide receiver position, but the Panthers have surrendered three touchdowns to wideouts the past two weeks apiece. Rodgers has to throw touchdowns to someone. And based on Lazard's steady history, combined with the uncertainty of MVS, take a chance on Lazard if you're going to roll the dice on a Packers receiver in the semifinals.
TE Robert Tonyan: 🏈🏈🏈🏈
Tonyan's stats the past four weeks are, in a word, beautiful. He's been targeted five times and scored in all four games and has collected an average of 46.5 yards per contest. In a year with tight end inconsistency all over the league, Tonyan's name in your lineup should ease your mind. Plus, Carolina has surrendered 71+ receiving yards to tight ends over the last five games.
Packers D/ST: 🏈🏈
Without Christian McCaffrey on the field, Carolina's offense isn't flashy by any means. Although the Panthers don't score a boatload of points — they rank 19th with 23.6 points per game – Carolina has only committed 13 turnovers, the fifth-fewest in the NFL. So, there likely won't be a ton of fantasy points available for Mike Pettine's unit to grab. But it's not like the Panthers are going to put up a 50-burger.
CAROLINA PANTHERS
QB Teddy Bridgewater: 🏈
Bridgewater's passing touchdowns the last five weeks — one, two, two, one and zero. Green Bay's defense has held opposing quarterbacks to one or zero touchdown passes in four of its last six games. Pass.
RB Christian McCaffrey (INJURED)
McCaffrey is listed in this article just as a formality at this point. He's played just three contests this season and has missed the last four games with a shoulder injury. There's no official announcement as of Thursday, but let's assume McCaffrey gets shelved once again this week.
RB Mike Davis: 🏈🏈🏈🏈
The one position Green Bay's defense struggles against is running backs. The Packers are allowing the third-most fantasy points to the position. Green Bay really struggles against pass-catching backs, surrendering the most receiving yards per game (50.8) to the position. Davis will eat, especially through the air.
WR Robby Anderson: 🏈🏈
Green Bay is tough against wide receivers, allowing the sixth-fewest fantasy points to the position. They've allowed six touchdowns to the position over the past six weeks. Anderson has just two touchdowns to his name this season. An afternoon battling against Green Bay cornerback Jaire Alexander won't help.
WR DJ Moore: 🏈🏈🏈
Moore missed last week's game on the reserve/COVID-19 list, but all signs point to him playing against Green Bay on Saturday. We like his matchup against the Packers secondary more than Anderson's. Moore's involvement in the Panthers offense was shaky until he tallied 96 yards and a score in Week 10. Since then, he's logged 7+ targets in every game. We like his chances against Packers cornerback Kevin King.
TE Ian Thomas: 🏈
Thomas leads all Panthers tight ends with a mere 117 receiving yards this season. The Panthers offense simply does not utilize the tight end position. Moving on.
Panthers D/ST: 🏈
The Packers score the most points per game (31.5) in the NFL. The Panthers allow the 12th-most yards per game (364.4). No thanks!