Pacers open preseason play with 107-104 loss to Cavaliers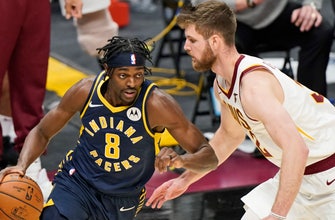 There was not a lack of excitement in the Pacers' first preseason game of the 2020-2021 season, but ultimately, Indiana fell to Cleveland 107-104 Saturday.
With just seconds left T.J. McConnell missed a jumper, Damyean Dotson grabbed the rebound and Issac Okoro ran the floor and made a basket to put the Cavaliers up 106-104. Okoro was also fouled on the play and made his free throw to make it 107-104.
Malcolm Brogdon and Domantas Sabonis led the Pacers' scoring with 16 points each. Sabonis had 13 rebounds on the night to secure the double-double.
The Pacers had a balanced offensive attack against the Cavaliers as Myles Turner scored 14 points, Doug McDermott 13 and Justin Holiday 12.
Brogdon, Sabonis and Turner, along with Aaron Holiday and Victor Oladipo rounded out the starting five for Indiana's new head coach Nate Bjorkgren.