Offseason Options: Candidates to start at 3B for 2021 Brewers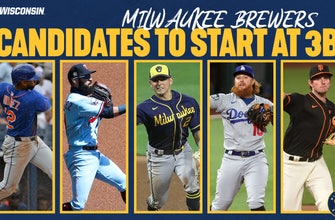 The Milwaukee Brewers had a few questions this offseason, including who will be their starting third baseman in 2021?
With less than a month before spring training is scheduled to begin, the question remains.
In last year's shortened 60-game sprint, Milwaukee had five different players start at third – only two of those remain on the roster in some fashion.
Below we'll take a look at some potential ideas of how the Brewers' third-base situation could unfold, starting with those on the 40-man roster, delving into free agents still available and then others who are in the system or who will be camp:
40-MAN ROSTER
Tim Lopes: We know the Brewers love utility-type players and Lopes, who was claimed off waivers from Seattle in December, is just that type of guy. He's mainly played second base in the minors and outfield in the majors, but he does have 109 games of experience at third on the farm in both the Toronto and Seattle organizations. Lopes might not be your prototypical third baseman at the plate — his slash line in 279 MLB plate appearance is .252/.315/.362 while in the minors it's .277/.339/.382. But what he does have is speed. Lopes is 11 of 14 on stolen-base attempts in the majors and had 26 thefts in 95 games at Triple-A Tacoma in 2019.
Mark Mathias: Another of the players with positional versatility, Mathias didn't actually play third base for Milwaukee last season, but he does have 95 games of experience there in the minors, including 47 starts at Triple-A Columbus in 2019. While he didn't walk or homer in his 36 plate appearances with the Brewers in 2020, Mathias does own a .352 career on-base percentage in the minors and has a little pop in his bat, socking 12 homers in 2019.
Daniel Robertson: The veteran utilityman was officially signed to the 40-man roster Thursday. Robertson has played second base the most in his four-year career (109 games) with third (81) and short (74) right behind. Robertson is a career .234/.342/.352 hitter, having spent the first three years of his career with Tampa Bay. He had nine home runs in a career-high 340 plate appearances in 2018. Last season he had 24 plate appearances for San Francisco, going 7-for-21 with three walks and no extra-base hits.
Luis Urias: Urias played in 30 games at third base for Milwaukee last season, tied for the most on the team with Eric Sogard, although Sogard started in 22 games and Urias 20. Urias' bat plays more like a middle infielder, and perhaps that's where he could end up (shortstop Orlando Arcia's contract is guaranteed and maybe Keston Hiura is needed at first base). In 41 games last year with the Brewers, his first with the team, Urias had a slash line of .239/.308/.294 and in 124 career games it's .226/.315/.320.
FREE AGENTS
Asdrubal Cabrera: Cabrera hit 14+ home runs every season from 2011-19 and owns a career .268/.330/.426 slash line. Last year with Washington he hit .242/.305/.447 in 52 games. He still has power, even at age 35, and could also slot in at first base or second base, and maybe even shortstop in a pinch.
Marwin Gonzalez: Can play third base? Check. Can play multiple positions? Check. He's coming off a down year in which he batted just .211/.286/.320, but Gonzalez hit 10+ homers each year from 2015-19, with a high of 23, for Houston then Minnesota. He has over 130 games of experience in the field at first base, second base, third base, shortstop and left field, so he can be easily moved around somewhere else if need be.
Jedd Gyorko: We covered him in our look at potential first basemen. For what it's worth, he played only 11 games with eight starts at third for the Brewers in 2020 compared to 30 games and 26 starts at first.
Jake Lamb: Also covered in our potential first baseman capsules, Lamb is likely a better fit at third base, which has been his primary position in the majors. He has 517 games of MLB experience at third.
Jed Lowrie: Knee issues kept Lowrie out of the 2020 season altogether and limited him to just eight plate appearances in 2019. Oh, and he turns 37 in April. But, when healthy, he's a darn consistent hitter. With Oakland in 2017 he slashed .277/.360/.448 then followed that up in 2018 by hitting .267/.353/.448. There's definite risk here, of course.
Brad Miller: Do you remember the 27-game stint he had with Milwaukee in 2018? It didn't go all that great (.230/.288/.378), but he did slug .565 in 170 plate appearances with Cleveland and Philadelphia in 2019 and slashed .232/.357/.451 in 48 games with St. Louis last year. He can also play second, third, short or left field as needed.
Eduardo Nunez: An All-Star in 2016 who batted .313/.341/.460 in 2017, things have fallen off a bit since for Nunez. He hit .265/.289/.388 for Boston in 2018. Injuries limited him in 2019 to 60 games and had only two plate appearances with the New York Mets last year. He can, like many others listed here, play multiple positions.
Pablo Sandoval: Kung Fu Panda hasn't been a full-time player since 2015, but in 2019 he did slug .507 with 14 home runs in 108 games (296 PA) for San Francisco. He didn't do much last season, though, hitting .220 with one homer in 94 plate appearances for the Giants and Atlanta (playing in just one game for the latter). Look, the free-agent market at third is slim. Maybe Sandoval is worth at least a look in spring training?
Justin Turner: Turner would be the biggest swing for Milwaukee when it comes to third base. He's coming off seven seasons with the Los Angeles Dodgers in which he hit .302/.382/503. He slugged over .500 in three straight years from 2017-19 before dipping to .460 in 42 games last year. Of course, he still hit .307 with a .400 on-base percentage. The man with the tremendous red beard is 36, however, so a dropoff is inevitable at some point.
NON-ROSTER/MINOR-LEAGUE PLAYERS
Lucas Erceg: The former second-round pick has stalled out in the minors after a promising start to his pro career. He'll be 26 in May, so time is running out, if it already hasn't. Erceg has some power — three straight seasons with double-digit homers, although never more than 15 — but hasn't slugged over .400 since 2017. Last year he signed on with the Sugar Land Lightning Sloths of the Constellation Energy League after not being invited to the Brewers' alternate training site and batted .180 with no homers in 28 games. Yeah, he's a longshot … but he's also the second-highest prospect at third base as ranked by MLB.com (No. 28 overall; the other, Jesus Parra, is No. 20 but only 18 years old).
Zach Green: We also covered Green in our look at potential first basemen, but his primary position has been third base. It's the position he's played most in the minors (269 games, 264 starts) and the only place he played in a brief five-game trial with San Francisco in 2019. Green has the power you like in a third baseman, having slugged .578 at Double-A Reading in 2018 and .659 for Triple-A Sacramento in 2019.
Pablo Reyes: Milwaukee lists Reyes as an outfielder but — and stop us if you've heard this before — he can play multiple positions, including third base, which he's manned 33 times combined between the majors and minors. Reyes, 27, has a decent career minor-league slash line of .278/.351/.421. In 220 MLB plate appearance with Pittsburgh from 2018-19, he hit just .229/.295/.368.