Offseason Options: Candidates for starters in rotation for 2021 Brewers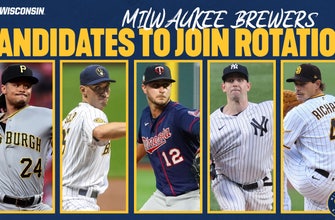 The Milwaukee Brewers' starting rotation seems mostly set heading into the 2021 season – but there still looks to be (at least) one spot to fill.
The offseason to date hasn't cleared up this conundrum and with less than a month before spring training is scheduled to begin, the question remains.
In last year's shortened 60-game season, Milwaukee used eight different starting pitchers (which included a couple of "openers"), five of whom combined for 44 of them.
Below we'll take a look at some potential ideas of who could be in the Brewers' starting rotation, starting with those on the 40-man roster, delving into free agents still available and then others who are in the system or who will be camp:
40-MAN ROSTER
Corbin Burnes: Making 12 appearances with nine starts, Burnes posted a 2.11 ERA, 1.022 WHIP and 13.3 K/9, finishing sixth in the NL Cy Young Award voting. Safe to say he'll be in the five.
Dylan File: Likely a longshot here, but consider he'll be 25 in May and was part of Milwaukee's 60-man roster in 2020 after splitting time between Single-A and Double-A in 2019. With Biloxi in '19, the right-handed throwing File had a 3.01 ERA, 1.103 WHIP and 8.1 K/9 in 14 starts.
Adrian Houser: Houser made 11 starts for Milwaukee in 2020, but in six of his last seven he couldn't make it to five innings. He was taken out of the rotation and made a relief appearance on Sept. 27, tossing one scoreless inning in a 5-2 loss. He finished the year with a 5.30 ERA, 1.500 WHIP and 7.1 K/9. In 2019, splitting his time between relief and starter roles (35 games, 18 starts), he had  3.72 ERA, 1.240 WHIP and 9.5 K/9.
Eric Lauer: In his first year with the Brewers after being acquired from San Diego, Lauer was late to the second training camp after coming in contact with someone who had COVID-19 (he did not test positive). He made only four appearances – with two starts – and was tagged for 16 runs in 11 innings. Lauer is just one of four left-handers on Milwaukee's 40-man roster.
Josh Lindblom: Signed to a three-year contract after a successful two-year stint in Korea, Lindblom made 10 starts in 2020 with two relief appearances as well in early September. The results were mixed. His ERA was bloated (5.16), but he had a decent WHIP (1.276) and good K/9 (10.3). His longest starting stint, though, was just 5 1/3 innings.
Freddy Peralta: He seems destined to be in the bullpen but the Brewers did sign him to a contract extension through 2026 (the latter two years being team options), so perhaps they have bigger plans for him. Peralta started 14 games in 2018, eight in '19 and just one (in 15 appearances) last season, when he recorded a 3.99 ERA, 1.159 WHIP and 14.4 K/9.
Drew Rasmussen: Another who seems pegged for the bullpen, but Rasmussen, who can hit 100 mph on the radar gun, was a starter at Oregon State and made 23 starts out of 27 appearances in 2019 as he climbed up the Brewers' minor-league chain. Rasmussen, who will be 26 in July, made 12 relief appearances for Milwaukee last year, sporting a 5.87 ERA, 1.696 WHIP and 12.3 K/9 in 15 1/3 innings.
Brent Suter: Again, the expectation here is Suter remains in the bullpen with a few spot "opener" assignments like last season when he appeared in 16 games with four starts. He and Lauer are really the only left-handed candidates for the rotation currently on the 40-man. Suter had a 3.13 ERA, 1.105 WHIP and 10.8 K/9 in 31 2/3 innings in 2020.
Brandon Woodruff: Your expected 2021 opening-day starter.
FREE AGENTS
Chris Archer: Archer sat out 2020 recovering from surgery. He was a solid pitcher for Tampa Bay but his numbers dropped off in 2018, during which he was dealt to Pittsburgh. In 2019 he had a 5.19 ERA and 1.412 WHIP – but 10.8 K/9 – in 23 starts. From 2013-17 with the Rays he boasted a 3.60 ERA (110 ERA+), 1.214 WHIP and 9.7 K/9. Some team is going to see if they can revert the 32-year-old Archer back to form.
Rich Hill: Yes, Hill will be 41 this season but when healthy he is still a very good pitcher. The key phrasing there is "when healthy." Hill made just eight starts for Minnesota last year, throwing all of 38 2/3 innings after having 13 for the Dodgers in 2019 (and 58 2/3 innings). The left-hander had 25 starts in 2017 and 24 the next year (with one relief appearance) but again with limited innings (135 2/3 and 132 2/3). Still, since 2017, Hill has a 3.27 ERA, 1.116 WHIP and 10.3 K/9. High risk but high reward potential.
Mike Leake: Leake isn't going to blow anyone away but he's a solid pitcher who will provide innings for a team. He opted out of the 2020 season. In 2019 he posted a combined 4.29 ERA and 1.289 WHIP in 197 innings with Seattle and Arizona. From 2016-19 he averaged 31 starts and 186 1/3 innings per season.
Jake Odorizzi: He made just four starts in an injury-riddled 2020, but he was strong in 2019 for Minnesota, making 30 starts with a 3.51 ERA, 1.208 WHIP and 10.1 K/9. A Brewers first-round draft pick in 2008, Odorizzi reportedly will be fielding multiyear offers, which is somewhere Milwaukee might not want to go for the soon-to-be 31-year-old. In his nine-year career, Odorizzi has a 3.92 ERA, 1.240 WHIP and 8.6 K/9.
James Paxton: Like many on this list, Paxton had a terrible 2020 but a solid career previously. The left-hander made just five starts for the Yankees last year with a 6.64 ERA but in 2019 had 29 starts with a 3.82 ERA, 1.281 WHIP and 11.1 K/9. Similar to Odorizzi, he might command a multiyear contract and a bidding war could exclude the Brewers. Paxton has never thrown more than 160 1/3 innings in any season but does boast a career 3.58 ERA, 1.213 WHIP and 9.9 K/9.
Brad Peacock: Maybe he's considered a reliever at this point in his career, but Peacock made 15 starts for Houston in 2019 and 21 in 2017. He's been good as a starter – 3.65 ERA and 1.135 WHIP in five starts in 2016, 3.22 ERA, 1.218 WHIP and 10.9 K/9 in 2017 and 4.24 ERA, 1.178 WHIP and 9.1 K/9 in 2019. Peacock made just three relief appearances last season as he missed most of the year due to shoulder surgery.
Rick Porcello: The 2017 American League Cy Young Award winner has been pretty "meh" since – a 4.87 ERA, 1.339 and 8.1 K/9 in 110 starts. He's just 32 and before 2020 made 32+ starts in four consecutive seasons and in nine of his 12 years overall since entering the league as a rookie in 2009.
Garrett Richards: Another pitcher who has had issues with health, although he pitched in 14 games with 10 starts for San Diego in 2020, recording a 4.03 ERA, 1.247 WHIP and 8.1 K/9. From 2016-19, however, he made all of 31 starts with 16 coming in 2018 for the Angels (3.66 ERA, 1.284 WHIP and 10.3 K that year).
Julio Teheran: Let's be upfront: Teheran was horrible with the Angels last season. However, he had some quality seasons with Atlanta (3.67 ERA, 1.211 WHIP, 7.8 K/9 over nine years) where he was a two-time All-Star and will be 30 years old this season.
NON-ROSTER/MINOR-LEAGUE PLAYERS
Aaron Ashby: The left-hander turns 23 in May but if he's in the rotation it'd likely wouldn't be until later in the season. Ashby was at the Brewers' alternate training camp site but in 2019 he pitched for Single-A Wisconsin and Carolina, recording a combined 3.50 ERA, 1.278 WHIP and 9.6 K/9. MLB.com lists Ashby as Milwaukee's No. 6 prospect.
Alec Bettinger: A right-hander who turns 26 in July, Bettinger had a 3.44 ERA, 1.066 WHIP and 9.7 K/9 in 26 starts at Double-A Biloxi in 2019. He, like every other minor leaguer listed in this section, was at Milwaukee's alternate training site last season.
Zack Brown: Brown was the Brewers' Minor League Pitcher of the Year in 2018 after having a 2.44 ERA, 1.042 WHIP and 8.3 K/9 with Double-A Biloxi. But he was bombed in 2019 at Triple-A San Antonio to the tune of a 5.79 ERA and 1.731 WHIP. Milwaukee did have him at alternate camp last year so perhaps the 26-year-old right-hander is still in its future plans.
Ethan Small: Milwaukee's first-round pick in 2019 has very little pro experience – 21 innings in the lower levels in 2019 – but he'll be 24 in February. The left-hander, a former Mississippi State star, probably doesn't need much more seasoning.