No. 12 Badgers hand No. 1 Minnesota its first loss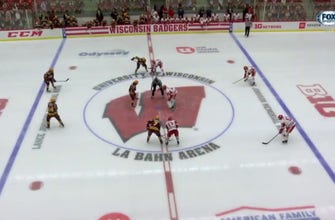 It took 11 games, but the Minnesota Golden Gophers have finally suffered their first loss of the 2020-21 season.
The No. 12 Wisconsin Badgers (6-5) defeated Minnesota 3-1 on Saturday and limited the No. 1 Gophers (10-1) to just one goal.
After a scoreless first period, Linus Weissbach deposited the puck into the back of the net and put the Badgers up 1-0 with 14:47 to go in the second.
Wisconsin got another goal early in the third period when Tarek Baker chipped in the puck with 18:01 left in the game.
Minnesota's Sampo Ranta scored on a power play with 12:10 to go in the period and the Gophers cut it to 2-1.
But the Badgers got the last laugh when Owen Lindmark made it 3-1 on an empty-net goal with just under a minute to go.
Both teams will play the second game of the series on Sunday at 4 p.m. in Madison. The game will be televised on FOX Sports North.