Mizzou LB Nick Bolton is a Butkus Award finalist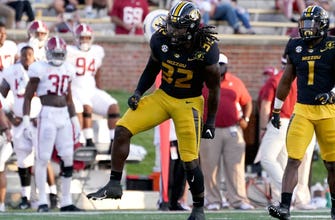 It's down to five.
Missouri Tigers star Nick Bolton is one of five finalists for the Butkus Award, which recognizes the top linebacker in college football. The winner will be announced on or before Dec. 22.
Bolton is the first Mizzou defensive player to be named a finalist for a major college football award since defensive end Shane Ray (Hendricks Award) in 2014. Tight end Albert Okwuegbunam (Mackey Award) and quarterback Drew Lock (Unitas Golden Arm, Lowes Senior CLASS awards) were finalists in 2018.
Bolton has a team-high 88 tackles (66 solo), 19 more than the team's second most prolific tackler. He averages 10 tackles a game, which ranks 22nd nationally, 12th in Power Five and fourth in the SEC. His team-high seven tackles for loss rank fifth in the conference.
The junior linebacker's stats are all the more impressive considering he did not play in the second half against Vanderbilt and Arkansas and his numbers were further reduced by Mizzou's dominant defensive performance against Kentucky, which ran only 36 offensive plays. Bolton had seven tackles (all solo) — 25% of the Tigers' total — against the Wildcats and was named the SEC Defensive Player of the Week.