Minnesota Vikings predictions: Week 14 at Tampa Bay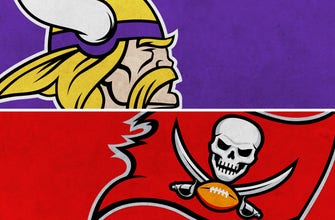 Tampa Bay (7-5) is reeling.
The Buccaneers, once favorites in the NFC after starting the year 6-2, lost three of their last four contests before resting on a bye last week. Forty-three-year-old quarterback Tom Brady has returned to Earth, throwing seven interceptions compared to just eight touchdowns in his last four contests.
However, the Bucs might be due for a get-right game. And Minnesota's defense, which nearly lost to journeyman signal-caller Mike Glennon and Jacksonville last week, could be just what Tampa Bay needs. The last time Minnesota (6-6) faced a struggling team coming off a bye, the lowly Dallas Cowboys came into U.S. Bank Stadium and exited with a 31-28 victory.
Both teams currently hold one of three wild-card spots in the NFC. Whoever wins will be sitting pretty in the playoff picture entering the final three weeks of the regular season.
Here's this week's Vikings predictions from around the web:
Barry Wilner of the Associated Press: Buccaneers 30, Vikings 20. "Tampa needs a bit of a turnaround and this is a good spot for it."
Sam Farmer of the Los Angeles Times: Buccaneers 28, Vikings 24. "After a week off, the Buccaneers have had a chance to self-scout and recalibrate. They'll make Ronald Jones a bigger part of the game plan, and get job done against the increasingly solid Vikings."
Pete Prisco of CBSSports.com: Buccaneers 30, Vikings 16. "The Vikings still have playoff hopes, but they need this one to make that a reality. They didn't look good against Jacksonville last week and now face a Tampa Bay team coming off a bye and angry from the loss before it. Tom Brady will get back on track here. This will be a blowout."
NFL.com's Gregg Rosenthal: Buccaneers 34, Vikings 26. "Tom Brady's struggles have mostly come against top defenses that can disrupt him. That shouldn't be a problem this week. The Vikings' offensive success has mostly come against defenses they could run against. That is unlikely to be an option this week. The Bucs' sprint to the finish before being called The Team No One Wants To Face In The Playoffs starts now."
Will Brinson of CBSSports.com: Buccaneers 35, Vikings 31. "Massive, massive game in terms of NFC implications. And I don't think you can expect enough points here. The Buccaneers do the one thing that turns the Vikings into an over team: stop the run and give up passing yards to elite route runners. The Vikes have two in Adam Thielen and Justin Jefferson. If only we could cause Tom Brady to explode offensively by limiting the pressure a defense puts on him."
John Breech of CBSSports.com: Buccaneers 30, Vikings 27.
The Miami Herald's Greg Cote: Buccaneers 31, Vikings 27. "Two straight L's and three in past four games have loosened Tom Brady's grip on a Buccaneers' playoff ticket, while surging Vikes are on a 5-1 roll. Tampa's defense has fallen off during past month's slump, although Bucs front seven will make it tough sledding for Dalvin Cook. See a Brady/Bucs bounce-back off a bye, but love Minny getting this many points."
Vinnie Iyer of the Sporting News: Buccaneers 30, Vikings 20. "The Vikings will see their run-heavy approach stymied by the rested and mighty Bucs' run defense. Dalvin Cook will be contained in that capacity, putting plenty of heat on Kirk Cousins and his elite wide receivers to keep up with Tom Brady and his bevy of weapons working on a weak secondary and a Vikings zone defense. Minnesota's recent sluggish starts haunt it against Tampa Bay, which will be better organized coming off a bye."
Jonathan Jones of CBSSports.com: Buccaneers.
Bill Bender of the Sporting News: Buccaneers 28, Vikings 21. "The Vikings remain in the playoff hunt, but Dalvin Cook will be challenged by the league's top run defense. That will put pressure on Kirk Cousins. Tampa Bay had an extra week to prepare, and Tom Brady cleans up the turnovers at home."
Jordan Dajani of CBSSports.com: Buccaneers 31, Vikings 28.
Philly Voice's Jimmy Kempski: Buccaneers.
Josh Schrock of NBC Sports Bay Area: Buccaneers 31, Vikings 20. "Kirk Cousins and the Vikings narrowly avoided being upset by the Jaguars and now they get Tom Brady off a bye. The Bucs should be motivated to prove their issues are behind them. Brady puts on a show in a rout."
Pro Football Talk's Michael David Smith and Mike Florio: MDS – Buccaneers 28, Vikings 20. Florio – Buccaneers 28, Vikings 20. "The Vikings have been barely beating not-good teams. This one could go not too good for them."
Oliver Hodgkinson of Pro Football Network: Buccaneers 35, Vikings 28. "Tom Brady and the Bucs have had the bye week to stew on their humiliation at the hands of Tyreek Hill. They need to return to winning ways to try and book their place in the post-season. The Vikings' defense has been awful in the passing game, and as such, the Bucs should have the advantage in a high-scoring game."
Sportsnaut's Vincent Frank: Vikings 27, Buccaneers 24.
Four of six MMQB analysts at SI.com are picking the Buccaneers. Conor Orr and Andrew Brandt chose the Vikings.
All three writers at Athlon Sports pick the Bucs to win.
Nine of 10 SB Nation writers predict a Buccaneers victory.
Five of six PennLive.com writers pick the Buccaneers to win.