Milwaukee Brewers 2020-21 Hot Stove primer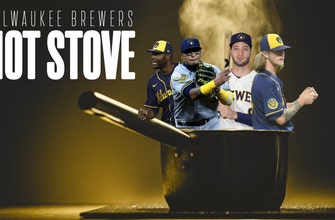 Major League Baseball's Hot Stove season is upon us, although it might take longer than usual to get warm.
With the uncertainty of if a full 2021 season is viable, or even when and where spring training can begin, not to mention profits being down after a 60-game season which had no fans during the regular-season, only a select few free agents are expecting to draw in big bucks. The rest … it might be a lot of waiting around until things clear up.
The Milwaukee Brewers are expected to be in the latter market.
That doesn't mean general manager David Stearns won't make moves, of course. In fact, last year he made three trades and one waiver claim in November which netted the Brewers, among others, Eric Lauer, Mark Mathias, Luis Urias and Eric Yardley, all of whom played in 2020.
But it's hard to anticipate trades a team might make. Free agents? There's always room for conjecture. And Stearns has signed at least one medium-range free agent every year. Also, keep in mind that more free agents will become available as teams nontender arbitration-eligible players.
OK, with all that being said, below we give a position-by-position synopsis on where Milwaukee stands heading into the 2021 season and some potential additions:
STARTING PITCHING
Milwaukee should return four pitchers who made at least nine starts this past season – Corbin Burnes, Adrian Houser, Josh Lindblom and Brandon Woodruff. Houser (5.30 ERA, 1.500 WHIP) and Lindblom (5.40, 1.338 as a starter) both struggled, however, so it wouldn't be a surprise to see the Brewers go out and try to get a veteran to (hopefully) stabilize the rotation.
Eric Lauer, who did not fare well in four appearances, including two starts, could get another shot as well. Freddy Peralta might get another shot to be a starter, but he's appeared to carve out a role in the bullpen.
If the Brewers have youngsters ready to crack the bigs at any position it might be starting pitching – but with no minor-league games this past season, the estimated time of arrival for players such as Aaron Ashby and former top pick Ethan Small is likely pushed back.
We're not expecting the Brewers to make a push for Trevor Bauer. One of the potential veterans we had eyed was Marcus Stroman, who sat out the 2020 season, but he was given a qualifying offer by the New York Mets and accepted it.
The problem is there's not a lot of glitter on this market. Jose Quintana, who turns 32 in January, has been something of a Brewers killer over the year, but since being traded to the Chicago Cubs in 2017 he's sported a 4.24 ERA (ERA+101) and 1.303 WHIP. A Cy Young Award winner in 2016, Rick Porcello has a 4.87 ERA (ERA+ 93) and 1.339 WHIP in the four years since. Milwaukee is certainly familiar with Homer Bailey, but he pitched all of eight innings last year and hasn't had a better-than-average ERA+ in a non-shortened MLB season since 2013. Brett Anderson is back on the market after one fairly average year with the Brewers (4.21 ERA, 1.277 WHIP) as well.
An under-the-radar name is Anthony DeSclafani. The former Cincinnati pitcher was dreadful in 2020 (7.22 ERA in 33 2/3 innings) but showed something the previous year, recording a 3.89 ERA (ERA+ 120), 1.200 WHIP and a career-high 9.0 K/9.
Julio Teheran is another reclamation project. He bombed with the Angels (10.05 ERA in 31 1/3 IP) but had a 3.67 ERA and 1.223 WHIP in nine years with Atlanta, posting sub-4 ERA three times in four years from 2016-19.
There are plenty of other options for players coming off injuries who had past success, such as Chris Archer, Corey Kluber and Colin McHugh.
RELIEF PITCHING
Sure, Milwaukee might dip into the free-agent market to add another piece or, more likely, ink a veteran to a minor-league contract and bring him to spring training.
But the Brewers' are pretty deep in the bullpen heading into the 2021 season. Milwaukee returns a number of relievers – although three are arbitration eligible: Alex Claudio, Josh Hader and Corey Knebel. It's tough seeing Knebel, who had a 6.08 ERA and 1.725 WHIP, returning without a dip in salary (he would have made $5.125 million if 2020 were a full season).
Beyond that trio, the Brewers should return Brent Suter, who is signed through 2021, Devin Williams, who had a sensational rookie season, and Eric Yardley (1.54 ERA, 1.243 WHIP in 23 1/3 IP), not to mention Peralta. Plus, there are youngsters Justin Topa, who impressed after his late-season call-up, and Drew Rasmussen. There's also guys like Phil Bickford, Ray Black, J.P. Feyereisen, Angel Perdomo and Bobby Wahl, all of whom are on the 40-man roster.
If you're curious about potential free agents – there's always a bunch of relievers available. Hey, Jeremy Jeffress is out there and could return for stint No. 4 with Milwaukee. Some veterans – like Justin Grimm or David Phelps, who were signed last offseason – there are guys like Steve Cishek, Wade Davis, Heath Hembree, Tommy Hunter, Darren O'Day, David Robertson, Bryan Shaw … well, you get the idea.
CATCHERS
The Brewers have four catchers on their 40-man roster. Omar Narvaez and Manny Pina are both eligible for arbitration. Narvaez did not perform up to offensive expectations, but Milwaukee might just consider 2020 an anomaly, especially under the circumstances surrounding the season. Pina will be 34 in June, still has an OK bat (OPS+ 99) and a good arm (three out five of nine attempted base stealers). The Brewers just have to decide if they want to pay a backup around $2 million.
Jacob Nottingham got his biggest chance to play in the majors in 2020 and hit .188/.278/.458 (OPS+ 93) in 54 plate appearances. Opponents were 6-of-8 on steal attempts. He turns 26 in April. Is Nottingham ready to be the backup (he'd certainly come a lot cheaper than Pina)?
The other catcher on the roster is David Freitas, who turns 32 in April and didn't play for the Brewers in 2020.
If you're thinking Milwaukee needs to find a new starting backstop … there's not a ton of options in free agency. The Brewers won't be making a run at J.T. Realmuto, who figures to be one of the most coveted players on the market. James McCann, who hit 18 homers in 2019 and slugged .536 in 2020, is the next-best option, but, again, he figures to have suitors. If the Brewers want to give a middle finger to St. Louis there's an aging Yadier Molina, who still has an above-average arm although a below-average bat.
One of the Brewers' top prospects is catcher Mario Felicano, the 2019 Carolina League MVP, but he's played all of one game above Single-A.
FIRST BASE
This might be the most interesting position to watch this offseason. In 2020, the plan was for Ryan Braun and Justin Smoak to split time there, then with the addition of the designated hitter and Smoak's struggles at the plate, Jedd Gyroko often manned the position.
None of those three players are still on Milwaukee's roster.
The Brewers do have Daniel Vogelbach, who is more of a DH type and only appeared in two games at first base in his 19 games with Milwaukee.
There aren't any prospects really on the radar at this position, either. Lucas Erceg, a former second-round pick, is a third baseman who has played some at first but he didn't hit well in the minors in 2018-19. He also isn't on the 40-man roster.
Last year, Chase Spanberger was acquired from Toronto for Chase Anderson. While he began his career as a first baseman, in 2019 with Double-A New Hampshire he played 97 games in the outfield and just 13 at first base while batting .237/.308/.399 with 13 homers. He did display power in the lower minors, blasting 19 homers in 60 games in Rookie ball in 2017 and a combined 27 homers with three Single-A teams in 2018. Like Erceg, he's 25 years old and not on the 40-man.
Looking at free agency, there's a couple of familiar names in Gyorko, who had his team option denied by the Brewers, and Eric Thames.
Mitch Moreland slugged .551 last season with Boston and San Diego and has 15+ homers in a season eight times, although he, like Vogelbach, struggles against lefties. He might be the best of the lot.
There's also Carlos Santana will be 35 and is coming off a season in which he hit .199 (but did lead the league in walks), however he did hit .281/.397/.515 with 34 homers in 2019.
Quite frankly, the pickings are slim. Here are the other free agents available at first base as listed by MLB.com: Asdrubal Cabrera, C.J. Cron, Charlie Culberson, Phil Gosselin, Logan Morrison, Daniel Murphy and Ryan Zimmerman.
SECOND BASE
Keston Hiura is Milwaukee's second baseman. The DH is not expected to be in the NL in 2021, so for those who want that as an option toss that out the window for now.
The Brewers surely will sign a utility player(s). Jace Peterson, who played three games at second base in 2020, is still on the 40-man, although he is arbitration eligible, as is Mark Mathias, although he played mostly in the outfield in his brief time with Milwaukee last season.
Some utility-type players who are free agents include Ehire Adrianza, Marwin Gonzalez and Kike Hernandez.
SHORTSTOP
The big question here is what will Milwaukee do with Orlando Arcia? He is arbitration eligible and would have made $2.2 million over a normal 2020 season. Arcia's defense, as measured by advanced statistics, has been slipping over the years. His bat has been inconsistent. In 2020 he hit .260/.317/.416 – owning the fourth-highest slugging percentage on the team (min. 100 plate appearances).
And if not Arcia, who? Luis Urias would be the logical choice (and also open a hole at third base, but more on that in a minute). Urias played well defensively at third in 2020 – while also playing 10 games at second and eight at short – but in his young career he's slashing just .239/.308/.294.
Brice Turang, one of Milwaukee's top prospects, is likely at least a year or two away, at minimum.
Potential free agents – beyond the utility players listed previously – are: Freddy Galvis, who has good power (12+ HR every year from 2016-19) but rarely walks (.291 career OBP); Didi Gregorius, who hit .284/.339/488 for Philadelphia in 2020 and who had 20+ HR every season form 2017-18; Marcus Semien, who hit just .223/.305/.374 last season but who had 33 homers in 2019 when he slashed .285/.369/.522 and has five seasons of 10+ homers; Andrelton Simmons, a four-time Gold Glove winner with a little pop in his bat.
That's it. That's the list (for now).
THIRD BASE
Peterson and Urias are the only two players left on Milwaukee's roster who played third base for the Brewers in 2020.
Peterson is more of a utility guy with a start here and there rather than a full-time player. As mentioned, Urias was strong defensively but his bat isn't what you normally want out of a third baseman.
Milwaukee could give Erceg a shot here, although, again, he isn't on the 40-man roster.
One free agent who might make sense is Jake Lamb. He's another reclamation project, having batted just .193 last season. But after signing with Oakland after being released by Arizona in mid-September he hit .267 with a .566 slugging percentage in 13 games. Playing for the Diamondbacks he hit 29 home runs in 2016 and 30 in '17. Lamb also plays first base, another position of need.
Like Lamb, Todd Frazier can play first and third. At 35, he's also five years older. Frazier's days of 30+ homers are behind him (he has 35 in 2015 and 40 in '16 with Cincinnati), but he did manage 18 dingers in 2018 and 21 in '19 with the Mets. In 45 games with New York and Texas last season he hit .236/.302/.382 with four homers.
OUTFIELD
If there's one position, as it stands, where Milwaukee likely won't make a move it is here.
The Brewers have seven outfielders on their 40-man roster, including their starting outfield of Lorenzo Cain (back after opting out), Avisail Garcia and Christian Yelich.
Ben Gamel could again be the fourth outfielder. The Brewers declined his team option but he still remains under team control and is arbitration eligible. If not Gamel, perhaps Tyrone Taylor is ready for the No. 4 role.
Manager Craig Counsell has shown he's apt to have his fifth outfielder be a utility player, such as Mathias or Peterson, but it also depends on who else is on the roster.
Billy McKinney, who has played 124 games mainly with Toronto, was claimed off waivers on Sept. 14, but didn't play for the Brewers. Former top pick Corey Ray is now 26 and has yet to sniff the majors.
Perhaps someone like Jarrod Dyson or Jake Marisnek, who can play all three outfield positions, might be desirous as a backup of the above options don't whet Milwaukee's whistle.
As far as prospects, 2020 top pick Garrett Mitchell has yet to play a professional game and Tristen Lutz hadn't played above Single-A.
What you see might just be what you get.