Midweek Stock Report: Timberwolves' Reid lighting it up from deep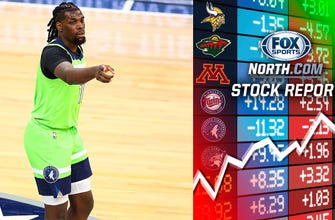 Naz Reid, Timberwolves center (⬆️ UP)
Naz Reid, three-point specialist? Scoff if you may, but Minnesota's big man hit 45.45% of his triples in the past week. He also scored 13.3 points per game in that stretch and for a Timberwolves team that has felt the impact of Karl-Anthony Towns' absence, getting production from the center position is crucial.
More Timberwolves coverage
Minnesota Timberwolves (⬆️ UP)
Minnesota may be 3-7 but it ended its seven-game losing skid on Sunday with a 96-88 win over the San Antonio Spurs and now embarks on a more forgiving stretch of the schedule. In the coming days, the Timberwolves will play the Memphis Grizzlies twice (without Ja Morant) the 5-5 Atlanta Hawks and the Orlando Magic. Not exactly a murderer's row.
Minnesota Twins (↔️ EVEN)
Francisco Lindor has been traded away to the Mets … Yay!!
The Chicago White Sox signed Liam Hendriks …. Noooo!!
Minnesota's top two rivals in the American League Central have made some moves recently. One appeared to get better and the other appeared to get worse. We'll have to see how that impacts the Twins this season.
Minnesota Wild (⬆️ UP)
Hockey is finally back!!! It's been far too long.
Justin Jefferson, Vikings wide receiver (⬆️ UP)
Jefferson became the first rookie wide receiver to be named an All-Pro since, guess who, Randy Moss in 1998. Tyler Lockett and Tyreek Hill made it in their rookie seasons, too, but as kick returners. Still, good company to keep for the 21-year-old (!!!) Jefferson.
Gophers basketball (⬇️ DOWN)
Minnesota lost by 25 points to Michigan last Wednesday and by 15 to Iowa on Sunday. The No. 23 Gophers are still 10-4 but that was certainly a rough stretch.