How former Gophers fared in the NFL in 2020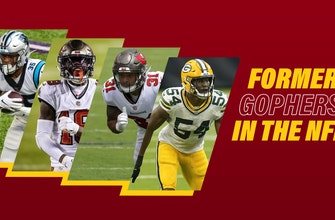 There were 11 former Minnesota Gophers players on NFL rosters in 2020 — eight defenders and three offensive weapons. Here's a look at how each former Minnesota player fared in the 2020 regular season.
De'Vondre Campbell, LB, Arizona Cardinals
After playing four seasons with Atlanta, Campbell signed a one-year deal with Arizona and started all 16 games in 2020. He ranked third on the Cardinals with 99 tackles and also added three passes defended, two sacks and one forced fumble.
Blake Cashman, LB, New York Jets
A fifth-round pick by New York in 2019, Cashman started five games for the Jets last season but was limited to four contests in 2020 due to injuries. He played mostly special teams in those four games, tallying six tackles.
Carter Coughlin, LB, New York Giants
Coughlin, a seventh-round 2020 selection by the Giants, began the season on special teams. Coughlin's role increased throughout the season and he saw defensive snaps in 10 contests, making two starts. The Eden Prairie, Minn., native racked up 17 tackles, two tackles for loss and two quarterback hits. Coughlin, who finished his collegiate career with the third-most sacks (22.5) in Gophers history, notched his first NFL sack  by taking down Tampa Bay's Tom Brady in Week 8.
Tyler Johnson, WR, Tampa Bay Buccaneers
Johnson went from catching passes from Tanner Morgan on Saturdays to grabbing receptions from future Hall of Fame quarterback Tom Brady in primetime. Johnson caught 12 passes for 169 yards and two scores in his rookie campaign. Tampa Bay was shorthanded at receiver in Week 5, so Johnson stepped up and caught four passes for 61 yards while playing a season-high 79% of the snaps. Unfortunately, Johnson's role in the offense diminished after the Buccaneers signed Antonio Brown in late October.
TB12 connects with Tyler Johnson to extend the Bucs lead, 21-10! #GoBucs

📺: #GBvsTB on FOX
📱: NFL app // Yahoo Sports app: https://t.co/qYnOYOB3CA pic.twitter.com/kW746g8rX8

— NFL (@NFL) October 18, 2020
Kamal Martin, LB, Green Bay Packers
Martin began his rookie season injured, but he made his NFL debut in Week 7. Making five starts for the Packers at linebacker, Martin tallied 24 tackles, three tackles for loss and one sack.
Eric Murray, CB, Houston Texans
Murray joined Houston after three years with Kansas City (2016-18) and one campaign with Cleveland (2019). Murray missed the Texans' final two games of the season on the COVID-19 reserve list, but he played nearly every defensive snap over the team's first 14 games. He set career bests with 71 tackles and two sacks.
Rodney Smith, RB, Carolina Panthers
The all-time leader in Gophers history with 5,441 all-purpose yards, Smith joined a stacked running backs room in Carolina as an undrafted signee Oct. 8. He made his NFL debut one week later, taking three carries for 13 yards against Tampa Bay. With both Christian McCaffrey and Mike Davis shelved in Week 17, Smith earned the start and rushed 10 times for 40 yards and a score. He finished the season with 215 total yards on 50 touches (41 carries, nine catches).
.@Numerouno1_ with his first career TD 🙌 pic.twitter.com/yJBYqerYR9

— Carolina Panthers (@Panthers) January 3, 2021
Maxx Williams, TE, Arizona Cardinals
In his second season with Arizona, Williams caught eight passes for 102 yards and one touchdown. The former 2015 second-round pick has five career touchdown receptions and has yet to record multiple scores in a single season.
Chris Williamson, CB, Atlanta Falcons
Williamson was a surprise draft-day selection by the New York Giants in the seventh round (No. 247 overall). He spent most of the season on the Giants practice squad but was released Dec. 3. Williamson was added to the Falcons' practice squad Dec. 9 and has yet to make his NFL debut.
Damien Wilson, LB, Kansas City Chiefs
Wilson won a Super Bowl ring with the Chiefs last season. He started 13 contests for Kansas City in 2020, missing three games due to a knee injury. Wilson finished third on the Chiefs with 73 tackles and added three tackles for loss, one pass defended and one forced fumble.
Antoine Winfield Jr., SS, Tampa Bay Buccaneers
The first Gophers player off the board in the 2020 draft, Winfield was selected 45th overall by the Buccaneers. Winfield started all 16 games at safety for Tampa Bay and recorded 94 tackles, six passes defensed, three sacks, two forced fumbles and one interception. Just like his father, Winfield looks like he'll have a long NFL career. The safety was the frontrunner to win the NFL Defensive Rookie of the Year award before Washington's Chase Young heated up late in the season.
Antoine Winfield put on the JETS to get across the field and make the tackle 🔥 @AntoineWJr11 @Buccaneers

📺 #TBvsNYG on ESPN pic.twitter.com/0oNozprFcu

— The Checkdown (@thecheckdown) November 3, 2020