How former Badgers fared in the NFL in 2020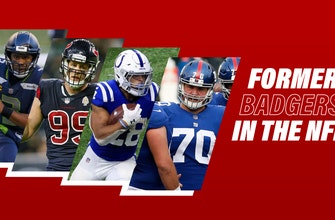 You can find Wisconsin Badgers players all over the NFL, each with varying degrees of success. Here's a look at how each former Wisconsin player fared in the 2020 regular season.
Zack Baun, LB, New Orleans Saints
A third-round pick for the Saints, Baun played mostly on special teams his rookie season, playing on 246 in that unit compared to 86 snaps on defense. He played in 15 games with three starts, with his most playing time (22 snaps) coming in New Orleans' season finale. He had double-digit defensive snaps in three other games, with no more than 13. Baun finished with 12 tackles.
Beau Benzschawel, OG, Houston Texans
After being cut from Detroit's practice squad, Houston signed Benzschawel to its practice squad late in the year. He was elevated to the active roster for the Texans' final game and appeared on seven special teams snaps. Houston signed him to a reserve/future contract.
Tyler Biadasz, C, Dallas Cowboys
A hamstring injury caused Biadasz, a fourth-round draft pick, to miss four games of his rookie season, but an injury to Dallas' normal center also allowed him to make four starts in Weeks 5-8. He ended up playing in 426 offensive snaps, but only one after returning to action in Week 13. According to STATS, Biadasz allowed one sack and committed two penalties in his 12 games.
Quintez Cephus, WR, Detroit Lions
A fifth-round pick, Cephus appeared in 13 games with two starts. He finished with 20 receptions on 35 targets for 349 yards and two touchdowns. Cephus had at least one catch in Detroit's final nine games. He started the season with back-to-back games with three receptions, but never had more than two in any contest after that. Cephus had a season-high 63 yards at Chicago in Week 13, scoring one of his two TDs. The other came in the season finale.
Jack Cichy, LB, Tampa Bay Buccaneers
Cichy began the year with Tampa Bay, was placed on injured reserve then eventually waived by the Buccaneers, claimed by New England but after failing a physical signed to the Patriots' practice squad then signed back to Tampa Bay's active roster before its Week 17 game. Cichy played exclusively on special teams in 2020 (102 snaps) and had two tackles. "Three sack Jack" has played only seven defensive snaps in his three-year career.
Corey Clement, RB, Philadelphia Eagles
Healthy again, Clement played in 15 games for Philadelphia but with just 108 offensive snaps (10%) and 267 special teams snaps (60%). The one-time Eagles Super Bowl hero had 21 carries for 75 yards – with a long of 7 – with a touchdown and five receptions for 25 yards. He also returned one kick for 22 yards.
Ryan Connelly, LB, Minnesota Vikings
Perhaps a surprising cut by the New York Giants this summer, Connelly was picked up by Minnesota off waivers. He played in 14 games but with just one defensive snap – which came in the opener. Connelly appeared on 198 special teams snaps (44%) and had six tackles.
Michael Deiter, OL, Miami Dolphins
A started in 2019, Deiter didn't play one offensive snap in 2020. He did play in all 16 games, with 77 special teams snaps.
David Edwards, OG, Los Angeles Rams
Just as when he was a rookie, Edwards began the year as a backup and finished as a starter. His ascent into the lineup happened quicker in 2020, though, Edwards starting the Rams' third game and rmaining a starter throughout the rest of the season (missing just one offensive play in that span). He allowed two sacks and committed one holding penalty.
T.J. Edwards, LB, Philadelphia Eagles
The former undrafted free agent missed four games due to injury but started the other 12 he played in. Edwards' playing time fluctuated depending on the opponent and number of injuries at the position – he had seven games where he played 70%+ of the defensive snaps and five where he was under 50%, including three under 30%. In his last four games, he played in 34%, 29%, 90% and 90% of the defensive plays. He finished with 70 tackles, five tackles for loss, two sacks, two forced fumbles, two QB hits and an interception.
Alex Erickson, WR, Cincinnati Bengals
For the fifth consecutive season Erickson was Cincinnati's main punt returner, averaging 10.1 yards – the second-highest total of his career – on 23 returns. On offense, Erickson's role was limited, his 18% of offensive snaps taken his lowest since his rookie year. He had 12 catches, his fewest since 2017, for 139 yards. He also rushed five times for seven yards and returned three kicks for 71 yards.
Troy Fumagalli, TE, Denver Broncos
Waived by Denver after landing on injured reserve, Fumagalli landed on Houston's practice squad before being cut after a couple of months. He re-emerged with the Broncos on their practice squad and, after being elevated to the gameday roster a few times, was signed to the active roster. He ended up playing 135 offensive snaps, including a season-high 39 at Carolina in Week 14 when he recorded four receptions for 53 yards. He'd finish with eight catches for 80 yards and a touchdown.
Melvin Gordon, RB, Denver Broncos
After spending the first five years of his career with the Chargers, Gordon left for AFC West rival Denver, where he signed a two-year deal. Playing in 15 games with 10 starts, and splitting time with Phillip Lindsay, Gordon led the Broncos with 986 yards, a 4.6 average (the second-highest rate of his career) and nine rushing touchdowns to go with 32 receptions for 158 yards and a TD.
Ryan Groy, OL, Los Angeles Chargers
Groy played in four games with three starts – in Weeks 4, 5 and 7 – before landing on the injured reserve/COVID-19 list, from which he didn't re-emerge until after the season was over. He did not allow a sack and committed one penalty.
Rob Havenstein, OL, Los Angeles Rams
For the second time in his career, Havenstein started in all 16 games for the Rams. He's never come off the bench in his career, starting all 84 games he's played. He allowed four sacks and committed three penalties, an upgrade over 2019 when he allowed three sacks and had eight penalties in nine games.
Alec Ingold, FB, Oakland Raiders
Ingold played nearly the identical percentage of snaps as he did as a rookie – 21% on offense and 50% on special teams in 2020 compared to 20% and 47% in 2019. His touches were also nearly the same. A year after having 10 carries and six catches, Ingold had three rushes (for four yards) and 12 receptions (for 110 yards and a touchdown).
Leon Jacobs, LB, Jacksonville Jaguars
Jacobs tore his ACL in Jacksonville's third game of the season. He did make two starts, with 33 defensive snaps and 42 special teams snaps. He had three tackles with one TFL.
Natrell Jamerson, S, Carolina Panthers
Jamerson spent much of the season on Carolina's practice squad, elevated several times to the gameday roster. He was signed to the active roster Dec. 11. Playing in four games, Jamerson appeared in 43 special teams snaps with one lone defensive snap. He did not record any statistics.
Dare Ogunbowale, RB, Jacksonville Jaguars
Ogunbowale took a backseat to James Robinson, one of the more unheralded nice stories this season, for the majority of the year until Robinson got hurt. Ogunbowale took over as Jacksonville's starting running back the last two games and had 14 carries in each, rushing for 71 and 50 yards. He also caught a combined seven passes for 29 yards. Playing in 14 games, Ogunbowale finished with 145 yards rushing on 32 carries and 10 catches for 54 yards. He also recorded 10 tackles on special teams.
Chris Orr, LB, Carolina Panthers
An undrafted free agent, Orr spent much of the season on the practice squad. He was signed to the active roster before Week 10, played in three games, was cut and re-signed to the practice squad. In his three games, Orr played in six defensive snaps and 50 special teams snaps. He did not record a statistic. Orr was signed by Carolina to a reserve/future contract.
Ryan Ramczyk, OL, New Orleans Saints
A starter for the fourth straight season, Ramczyk played all 16 games at right tackle for the Saints. He did miss some plays this season, but still appeared in 97% of New Orleans' offensive snaps ,his lowest percentage in any of the three years in which he's played every game. Ramczyk allowed two sacks and had four penalties in 2020.
Joe Schobert, LB, Jacksonville Jaguars
Schobert signed a five-year contract – but with no guaranteed money beyond 2021 – with the Jaguars in the offseason then went out and played nearly every defensive snap. He finished with 141 tackles, fourth in the NFL and the third time in his five seasons he's been in the top 10 – with six TFL, 2.5 sacks, six QBH, three interceptions (including one for a touchdown) and two forced fumbles.
Jonathan Taylor, RB, Indianapolis Colts
It too ka little while for the second-round pick to get going in the NFL, but he finished strong. In his first nine games, Taylor had 428 yards rushing on 3.8 yards per carry and four touchdowns with 22 catches for 203 yards. In his final six regular-season games, He had 741 yards rushing on 6.2 yards per carry and seven touchdowns with 14 catches for 96 yards and a TD. Taylor posted three 100-yard games: 101 yards in Week 2 vs. Minnesota, 150 at Las Vegas in Week 14 a Colts record 253 yards vs. Jacksonville in Week 17. His final numbers: 1,169 yards on 232 carries (5.0 average) with 11 touchdowns and 36 receptions (on 39 targets) for 299 yards and a TD.
Andrew Van Ginkel, LB, Miami Dolphins
Van Ginkel moved into the starting lineup in Year 2. Playing in 16 games with 11 starts, he appeared in 46% of Miami's defensive snaps and 71% of the special teams snaps. Van Ginkel record 48 tackles with 5.5 sacks, seven TFL, 10 QBH and a fumble recovery, which he returned for a touchdown against the Rams.
Rick Wagner, OL, Green Bay Packers
In his first year with Green Bay, Wagner proved to be a valuable commodity, playing in all 16 games with seven starts and appearing at both guard and tackle. He allowed only one-half sack – and it was for just four yards – and committed no penalties in 2020, further enhancing his importance to the Packers' 13-3 season. Overall he appeared in 59% of the offensive snaps and 16% on special teams.
Derek Watt, FB, Pittsburgh Steelers
In his initial year with Pittsburgh after four years with the Chargers, for the first time in his career Watt didn't play in all 16 games (he played in 12 thanks to injuries) and didn't have a touch on offense (he'd had at least two carries and one reception in every season previously). He did, though, have eight tackles on special teams including a TFL and safety. Watt was in on only 52 offensive snaps (5%) and 210 on special teams (47%).
J.J. Watt, DE, Houston Texans
For just the second time since 2016, Watt started all 16 games in a season (he did it in each of his first five seasons from 2011-15 as well). He finished with 52 tackles, five sacks, 14 TFL, 16 QBH, seven passes defensed, two forced fumbles and an interception, which he returned for a TD. Watt played in 92% of Houston's defensive snaps – his most since 2015. He also expressed displeasure with the work ethic of some of his teammates during another disappointing Texans season.
THIS is why we love @JJWatt

📹: Houston Texans pic.twitter.com/lXQzowheFq

— Joe Gleason (@joeagleason) December 27, 2020
T.J. Watt, LB, Pittsburgh Steelers
If anyone ever thought TJ was living in JJ's shadow, this season should erase those completely. Watt is a favorite to be named Defensive Player of the Year after leading the NFL in sacks (15), TFL (23) and QBH (41). He also recorded 53 tackles, seven passes defensed, two forced fumbles and an interception en route to be named to his third consecutive Pro Bowl.
James White, RB, New England Patriots
White played in 14 games – missing two after the death of his father – but with New England using a host of running backs this season, both his playing time and production dipped. White was in on 330 (33%) offensive snaps – his fewest total and lowest percentage since 2015. He rushed just 35 times for 121 yards – his lowest totals also since 2015 – with two TDs and caught 49 passes (fewest since 2015) for 375 yards with one TD, the latter two his worst figures since he was a rookie and played in only three games.
Russell Wilson, QB, Seattle Seahawks
Wilson just keeps chugging along – starting all 16 games for the ninth straight season (or, all nine of his years in the NFL) and leading Seattle to double-digit victories for the eighth time. Wilson set career highs in 2020 in completion percentage (68.1%) and touchdowns (40) while throwing for 4,212 yards, just seven off his personal best. He did also have a career-high 13 interceptions. Wilson's quarterback rating of 105.1 was the fourth highest of his career and the sixth time he's been at 100 or higher. Wilson also rushed 83 times for 513 yards – his highest numbers since 2017 – with two TDs.
Kevin Zeitler, OG, New York Giants
For the sixth time in his nine seasons, Zeitler started all 16 games of a season. He missed only a handful of snaps, all coming in Week 10 vs. Philadelphia. Zeitler allowed two sacks and committed four penalties in 2020.
The Others
In addition to the above, some former Badgers players finished the season on the practice squad or spent the entire year injured reserve. A quick rundown:
Beau Allen, DT, New England Patriots: Allen signed a two-year deal with the Patriots in the offseason but never played a down, going on injured reserve. New England activated his practice window during the season, but Allen was placed back on IR. The injury was never revealed.
Vince Biegel, LB, Miami Dolphins: Coming off a solid 2019 campaign and projected to start in 2020, Biegel tore his right Achilles tendon before the season began.
Sojourn Shelton, CB, Chicago Bears: Not on an NFL roster all season after being released by Arizona on June 1, Shelton was signed to Chicago's practice squad Dec. 30, prior to the final game of the regular season. Shelton, who left the Badgers after the 2016 season, has also been on the rosters of Cincinnati and Philadelphia, plus two stints with the Cardinals, but has yet to appear in a regular-season game.