Green Bay predictions: NFC divisional playoff vs. Los Angeles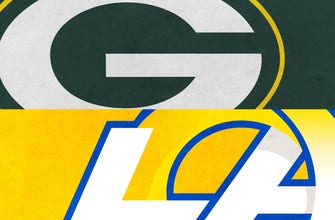 Hed: Green Bay predictions: NFC divisional playoff vs. Los Angeles
Blurb: Predictions from around the web for Saturday's Green Bay Packers–Los Angeles Rams game
Football is back this weekend – at least for the Green Bay Packers.
The top seed in the NFC had a week to rest as the other six playoff teams battled it out last weekend. Now the Packers get to face a banged-up Los Angeles Rams team at Lambeau Field on Saturday.
Win, and Green Bay is one step away from the Super Bowl – and get to play at home to get there.
The Rams' defense is tough – and the Davante Adams vs. Jalen Ramsey matchup is intriguing.
But Jared Goff has an injured thumb (and wasn't playing that well when he wasn't hurt). Can the Rams score enough points to hang, or even upset, the Packers?
Well, at least one person does. You'll need to scroll through to find it.
Here's this week's Packers predictions from around the web:
Sam Farmer of the Los Angeles Times: Packers 27, Rams 21. "As well as the Rams' defense is playing, picking against Aaron Rodgers at home is seldom a good idea. With their quarterback issues, it's going to be tough for the Rams to take full advantage of a vulnerable Green Bay defense. Even with Jalen Ramsey on him, Davante Adams will have an impact."
Pete Prisco of CBSSports.com: Packers 26, Rams 14. "This is the classic playoff battle of the No. 1 offense in Green Bay against the top defense in Los Angeles. What will give? If the Rams have a limited Aaron Donald, who has a rib injury, that will impact the defense in a big way. The single blocks won't come as much for the edge rushers, which will put a lot more pressure on the back end. The Packers were playing outstanding offense before the break, but the time off could hurt. Aaron Rodgers vs. the Rams secondary and Jalen Ramsey will be fun, especially if Ramsey spends a lot of time on Davante Adams. The Rams will likely start Jared Goff and his injured thumb, but there is a chance it could be John Wolford. Goff did a nice job last week off the bench against Seattle. The key for the Rams will be how well they run it against a Green Bay defense that has trouble with the run. The Packers defense did play better in the final four games. I think the Packers will be too much in this one. Look for Rodgers and company to move on."
NFL.com's Gregg Rosenthal: Packers 20, Rams 17. "Watching Jalen Ramsey against Davante Adams and Aaron Donald against Aaron Rodgers will be worth the price of admission. Sean McVay hired defensive coordinator Brandon Staley largely because Staley was part of a staff that knew how to shut down a McVayian attack. Now Staley can do the same to old Rams staffer Matt LaFleur, keeping the Rams closer to a big upset than they have any right to with such a limited passing attack."
John Breech of CBSSports.com: Packers 27, Rams 20. "Basically, I think the Rams have a defense that's good enough to pull off the upset, but they won't have the offensive firepower to escape Green Bay with a win."
Vinnie Iyer of the Sporting News: Packers 24, Rams 20. "The Rams' defense makes a statement against the MVP QB in Green Bay, but they can't do enough to make sure the Rams' offense outscores whatever Rodgers leads the Packers to do."
The Miami Herald's Greg Cote: Packers 27, Rams 17. "League MVP favorite Aaron Rodgers revealed this week he'll be an upcoming guest host on the TV game show 'Jeopardy!' But is he in any real jeopardy (sorry) of losing Saturday's early game? Short answer: Not much. This is the NFL's No. 1 scoring defense (Rams) visiting league's No. 1 scoring offense (Pack). Something gotta give. Somebody gotta break. I don't see it being Mr. Rodgers in his own neighborhood. This is a rested Gee Bees squad (after a top-seed bye) vs. a banged-up Rams team. LAR went deep into week not even sure who its QB would be, with Jared Goff (after thumb surgery) and John Wolford (stinger) both less than healthy. And Rams defensive star Aaron Donald will almost certainly be playing, but with a rib injury. Rams must dirty up Rodgers' pocket and get RB Cam Akers going like last week vs. Seattle to have any shot. But Pack's advantage over Rams on offense is greater than L.A.'s edge on D. Cheeseheads are in their 34th playoff season, surpassing Dallas for most ever. It won't be ending Saturday."
Bill Bender of the Sporting News: Packers 30, Rams 24. "The Packers have home-field advantage, and the challenge for Aaron Rodgers is finding ways to attack a dominant Rams defense. Aaron Donald (ribs) is expected to play, and that interior pressure will be key against a Green Bay offensive line that has been the team strength. Sean McVay and Matt LaFleur know each other well, so that chess match will be fun to watch on both sides. Ultimately, it's Green Bay's defense — which has allowed 25 points or less in its last six games — that steals the spotlight in the second half. Rodgers earns a trip to his fifth NFC championship game, and his first one at Lambeau Field. It won't be easy."
Benjamin Hoffman of the New York Times: Packers. "On neutral ground, and with equal health, this could add up to a Rams upset. But Green Bay fought hard to gain the home-field advantage throughout the playoffs, and that hard work could be the team's saving grace. It is expected to be around 30 degrees at kickoff in Green Bay, Wis., and Rams quarterback Jared Goff is only a few weeks removed from surgery on the thumb of his throwing hand. He appeared to struggle with his grip last week, and the cold, combined with a good-enough Packers defense, should give Green Bay all the edge it needs."
Tom Fornelli of CBSSports.com: Packers 24, Rams 14. "There's been a lot of talk about playing in cold-weather conditions regarding this weekend's games, and we just cannot overlook the fact that Aaron Rodgers really does play well in cold weather. In a season without a home-field advantage thanks to empty stadiums, this is an area where the Packers have a serious one. Rodgers and the Packers know how to play in these conditions and are built to take advantage of them. The Rams aren't. It's not a large sample size, but we've seen Jared Goff make two starts in temperatures below freezing. Both came in the 2018 season on the road against the Broncos and Bears. Goff completed only 47.2% (34/72) of his passes for 381 yards (5.3 YPA) with no touchdowns and five interceptions. Both Goff and Rodgers are from California and played at Cal. One has adapted to adverse weather conditions. The other hasn't. Back the one who has."
Jonathan Jones of CBSSports.com: Packers.
Jordan Dajani of CBSSports.com: Packers 28, Rams 21.
Pete Fituak of Collegefootballnews.com: Packers 26, Rams 17.
Rob McVey of Athlon Sports: Packers 24, Rams 20. "The Rams match up very well against Green Bay defensively in what may be the toughest test that the Packers' offense has faced all season. However, it will be a very tall order for Los Angeles to completely shut down Green Bay's high-powered attack. And Rodgers and Co. will find a way to put points on the scoreboard, albeit falling short of their league-leading 31.8 points per game season average. The Rams' offense, on the other hand, will have a difficult time keeping up on the scoreboard without a healthy option at quarterback. The Green Bay defense isn't as potent as the Rams', but the Packers are solid on that side of the football, ranking ninth in the NFL this season in total defense. Green Bay also has home-field advantage in a game that is expected to see temperatures in the high 20s, not exactly what the boys from sunny Los Angeles are accustomed to. The Rams' defense will keep it interesting, but they don't have the firepower on offense to come away with the upset. Green Bay comes out on top in a close one to advance to the NFC title game for the second year in a row."
Mark Craig of the Minneapolis Star-Tribune: Packers 31, Rams 19.
Gary Dulac of the Pittsburgh Post-Gazette: Packers 27, Rams 20.
Pro Football Talk's Michael David Smith and Mike Florio: MDS – Packers 30, Rams 20; Florio – Packers 31, Rams 21.
Oliver Hodgkinson of Pro Football Network: Packers 27, Rams 18. "Although the Rams might limit the Packers offensively, I just don't see a way that Jared Goff or John Wolford can live with Rodgers and Adams for 60 minutes."
Jarrett Bailey of Pro Football Network: Packers 28, Rams 17.
Sportsnaut's Vincent Frank: Packers 27, Rams 17. "All [Aaron Rodgers] did at home during the regular season was throw 23 touchdowns against two interceptions while leading the Packers to an average of 31.6 points. As for the Rams, they yielded an average of 24.8 points on the road compared to 12.3 at home during the regular year. This should be the difference as the NFL Playoffs go through Lambeau Field."
Anonymous coach, player and scout via The Athletic ($) all pick the Packers.
All seven writers at USA Today predict a Packers victory.
All six analysts at SI.com are picking the Packers.
All three writers at Athlon Sports think the Packers will win.
Nine of 10 SB Nation writers predict a Packers victory with Kyle Posey of Niners Nation the lone dissenter.
All six PennLive.com writers pick the Packers to win.