Green Bay Packers predictions: Week 9 at San Francisco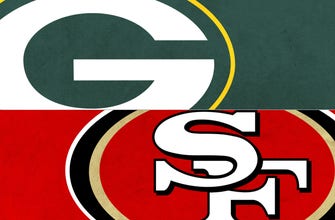 Welcome to might be one of the stranger NFL games this season. At least up to this point.
Green Bay has some injury issues, with Aaron Jones and David Bakhtiari both listed as questionable after each missed the last two games.
San Francisco has injury concerns. Most of the 49ers offense is either hurt or on the COVID-19 list, including superstar tight end George Kittle. Not to mention key defensive players Nick Bosa and Solomon Thomas have already been lost for the season.
Thanks mainly to the 49ers' situation, even on a short week and having to fly across the country to face a team which beat them twice last season, the Packers are getting a lot of love from those who predict NFL winners.
In case you weren't aware, welcome to the NFL in 2020.
Here's this week's Packers predictions from around the web:
Barry Wilner of the Associated Press: Packers 27, 49ers 16.
Sam Farmer of the Los Angeles Times: Packers 27, 49ers 17. "The 49ers were already beat up and now lost quarterback Jimmy Garoppolo and tight end George Kittle. Nick Mullens will start under center, but he has few weapons with which to work."
Pete Prisco of CBSSports.com: Packers 28, 49ers 21. "This rematch of the NFC title game last January has a different look to it for the 49ers in a big way. They are decimated by injuries, starting Nick Mullens at quarterback while being without George Kittle. They can still run the ball, which has been a problem for the Packers. But without Kittle and with a backup quarterback, it will be tougher to run it. The Packers will be thin at running back, but I think Aaron Rodgers and the Green Bay passing game will move the ball and find a way to win against a depleted team."
NFL.com's Gregg Rosenthal: Packers 30, 49ers 17. "In a world where Jimmy Garoppolo, George Kittle and Deebo Samuel didn't all suffer injuries over the last two weeks, I would have picked the 49ers to win this game. And not just because of the mismatch between Kyle Shanahan's rushing attack and the Packers' soft run defense but because of the advantage any decent running team has against this Green Bay D. But Nick Mullens re-enters the lineup without the help of a single 49ers offensive player who touched the ball in last season's NFC Championship Game now that receiver Kendrick Bourne has been placed on the reserve/COVID-19 list (first-year Niners Trent Williams and Brandon Aiyuk were added to the list late on Wednesday, too). The Packers might be without their top three running backs in this game, but the 49ers are similarly devastated at most of their position groups due to injury and COVID-19 protocols."
John Breech of CBSSports.com: Packers 27, 49ers 24.
Vinnie Iyer of the Sporting News: Packers 27, 49ers 24. "The Packers have been owned by the 49ers of late. San Francisco beat Green Bay twice on the way to Super Bowl 54, 37-8 in the regular season and 37-20 in the playoffs. But now there are many questions about the 49ers' offense, starting with the health and effectiveness of Jimmy Garoppolo. Deebo Samuel isn't playing and Green Bay killer George Kittle may not go on a short week. The Packers might be without running back Aaron Jones another week, but they should feel confident about Aaron Rodgers passing well on San Francisco's defense with a lesser pass rush and thinner secondary. The Packers take advantage of the 49ers shuffling because of injuries, rebounding from a home loss on a long short-week road trip."
The Miami Herald's Greg Cote: Packers 27, 49ers 23. "I tend to always trust in Aaron Rodgers, occasionally to a fault, but here's a trend I'll ride with: Pack has won eight games in a row following a loss. Still, forecasting this matchup is fraught with peril. Rodgers' top back Aaron Jones (calf) is legit-iffy and the Gee Bees' RB room is barren after him. San Fran as its own woes, with QB Jimmy Garoppolo and TE George Kittle both now sidelined for at least several weeks by injuries. Nick Mullens is an OK fill-in for Garo; replacing Kittle isn't as easy. And Niners also will be missing RB Tevin Coleman on this short week. SF beat Pack twice last season including in playoffs. See Cheesers getting their payback on the road."
Bill Bender of the Sporting News: Packers 27, 49ers 24. "This is a tricky game for the Packers. Aaron Rodgers is 4-6 against the 49ers (including playoffs) and Aaron Jones, Allen Lazard and David Bakhtiari are battling injuries. San Francisco will be without Jimmy Garoppolo and George Kittle, among others. That should lead to an unpredictable finish."
Jordan Dajani of CBSSports.com: Packers 30, 49ers 17.
Philly Voice's Jimmy Kempski: Packers.
Josh Schrock of NBC Sports Bay Area: Packers 30, 49ers 27. "No Jimmy Garoppolo or George Kittle for the 49ers. The Packers might be trotting out their fourth-string running back. Great game for national television. The 49ers embarrassed the Packers twice last season, but this defensive front isn't what it was a year ago. Still, it's a short week and the Packers are short-handed. Rodgers and Davante Adams do enough to get the win but Nick Mullens keeps it close."
All six analysts at SI.com are picking the Packers.
All three writers at Athlon Sports think the Packers will win.
Seven of 10 SB Nation writers predict a Packer victory. It should be noted that one of those who thinks San Francisco will win is Kyle Posey of Niners Nation.
Five of six PennLive.com writers pick the Packers to win.