Get to know new Milwaukee Bucks forward Torrey Craig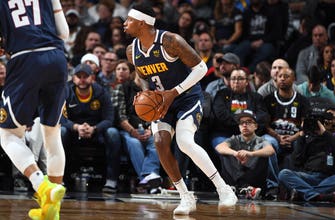 As the Milwaukee Bucks looked to add to their roster makeover this offseason, Torrey Craig was an unexpected find.
Craig, a 6-foot-7, 215-pound forward known for his defensive ability, had been expected to return to the Denver Nuggets, who had made the restricted free agent a qualifying offer.
But days after the NBA draft, Denver withdrew its offer, making Craig an unrestricted free agent. The Bucks snagged him up and he's expected to be a key piece off the bench for Milwaukee in the 2020-21 season.
Craig turns 30 on Dec. 19 but has just three years of NBA experience. Let's learn more about one of Milwaukee's newest pieces to the puzzle.
COLLEGE
After starring at Great Falls High School, where he was the 1A Player of the Year in South Carolina as a senior, Craig stayed in-state and headed to mid-major South Carolina Upstate (formerly known as South Carolina Spartanburg).
A four-year starter with the Spartans, Craig averaged 16.3 points and 7.2 rebounds over that span.
As a sophomore, Craig was tabbed the Atlantic Sun Player of the Year and began a three-year run of being named A-Sun first-team all-conference.
PRO CAREER
Craig said he had a workout with the Minnesota Timberwolves but eventually wasn't selected in the 2014 NBA draft. In August that year he joined the Cairns Taipans of the Australian National Basketball League.
Thus started a three-year journey Down Under.
Coming off the bench for Cairns, he averaged 8.9 points and 5.7 rebounds over 19.6 minutes in 32 games in 2014-15. Joining the Wellington Saints of the New Zealand NBL for the 2015 season (the Australian NBL is played during our summer and fall while the New Zealand NBL occurs during the spring), Craig averaged 20.4 points and 9.1 rebounds in 17 games.
Craig played for both Cairns and Wellington again the next season. He upped his average with the Taipans to 11.6 points and 6.1 rebounds in 25.0 minutes, while starting 11 of 28 contests. For the Saints, he averaged 20.9 pounds and 9.8 rebounds in 20 games, all starts.
In 2016-17, Craig moved over to the Brisbane Bullets. There he averaged 15.2 points and 8.04 rebounds while playing and starting in 28 games. At the end of the season Craig was named the Australian NBL Defensive Player of the Year and its Most Improved Player as well as being tabbed second-team All-NBL.
"I know a lot of guys that have gone overseas and been in bad situations, but I loved Australia," Craig said. "In Cairns it was the first time I played against grown men. I learned to be tougher and more hard-nosed because it was physical, even at training. I then had a bigger role at Brisbane, and I was more of a leader as a guy who set examples."
Denver then offered Craig a chance to play on its Summer League team and he did well enough there that the Nuggets signed him to a two-way contract. After averaging 22.9 points ad 8.1 rebounds with Sioux Falls of the G League, Craig earned a promotion to Denver and never returned.
In July 2018, Craig signed a two-year contract worth $2 million per season with the Nuggets.
In 172 games with the Nuggets, including 69 starts, Craig averaged 5.4 points and 3.3 rebounds over 18.6 minutes while earning a reputation as a strong defensive player, often tasked with guarding the opponent's top scorer.
Craig made 33 playoff appearances with Denver of the past two seasons, with 14 starts, and averaged 5.4 points and 4.1 rebounds.
CURRENT CONTRACT
Craig signed a one-year deal with the Bucks worth $1,678,854. He'll be an unrestricted free agent after the season.
PERSONAL
Craig is very much a small-town kid and he heads back to Great Falls – population of around 2,000 – when he can. In fact, his nickname in college was "The Great One from Great Falls."
This past February, Craig was back home as his jersey was hung in his school's "Wall of Fame."
While Craig's favorite player is former Marquette star Dwyane Wade, he's worn No. 23 to honor Michael Jordan, who was his favorite when he was a kid. With the Bucks, Craig will don No. 3 – Wade's number with Chicago and Miami (as well as Marquette).
When his professional basketball life is over, Craig, who majored in communications, would like to get into television production.
If you want a personalized message from Craig, head to his Cameo page (although there's no fee listed, maybe he'll have it up and running again soon). You can also fined Craig on Twitter @TCraig_23 and on Instagram @tcraig3_.