FOX Sports Indiana to air classic Indiana high school football championships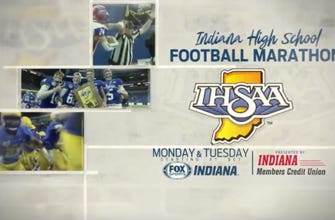 High school football fans can get ready for the 2020 IHSAA State Finals by reliving six incredible championship games from past seasons.
FOX Sports Indiana will replay six of the best IHSAA Football State Finals games since it became the home of Indiana high school championships in 2013. Three games will air Monday, Nov. 23, with three more airing Tuesday, Nov. 24. The lineup of classic games includes overtime classics, offensive fireworks and amazing endings.
The 2020 IHSAA State Finals air Friday, Nov. 27, and Saturday, Nov. 28, live from Lucas Oil Stadium.
The classic games and 2020 State Finals will air on FOX Sports Indiana and FOX Sports Midwest, and stream on the FOX Sports GO app and FOXSportsGO.com to viewers within the FOX Sports Indiana and FOX Sports Midwest coverage area.
IHSAA State Finals Football Classics on FOX Sports Indiana (times Eastern)
Monday, Nov. 23
5 p.m. – 2013 Class 4A | Columbus East 28, Fort Wayne Bishop Dwenger 27
7 p.m. – 2018 Class 3A | West Lafayette 47, Evansville Memorial 42
9 p.m. – 2015 Class 5A | Fort Wayne Snider 64, New Palestine 61
Tuesday, Nov. 24
5 p.m. – 2019 Class A | Lafayette Central Catholic 29, Indianapolis Lutheran 28
7 p.m. – 2018 Class 4A | Fort Wayne Bishop Dwenger 16, Evansville Central 10 4OT
9 p.m. – 2016 Class 6A | Carmel 16, Center Grove 13 OT
2020 IHSAA Football State Finals on FOX Sports Indiana (times Eastern) — LIVE
Friday, Nov. 27
11 a.m. – Class TBD State Final
3 p.m. – Class TBD State Final
7 p.m. – Class TBD State Final
Saturday, Nov. 28
11 a.m. – Class TBD State Final
3 p.m. – Class TBD State Final
7 p.m. – Class TBD State Final