FOX Sports Florida, FOX Sports Sun win 6 Suncoast Emmy Awards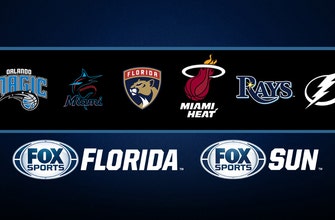 FOX Sports Florida and FOX Sports Sun were awarded six Emmys at the 44th Annual Suncoast Emmy Awards. The awards recognize broadcast excellence in television markets in the entire State of Florida; Alexandria, Baton Rouge, Lafayette, Lake Charles and New Orleans, La.; Mobile, Ala.; Thomasville, Ga. and Puerto Rico, as presented by the Suncoast Chapter of the National Academy of Television Arts and Science.
From live coverage to shoulder programming, this year's Emmy Award winners were honored for their collective hard work, creativity and overall dedication to carefully crafting the stories we tell on a daily basis through our networks and team partners. Since 2004, our networks have won a total of 91 Emmy Awards.
FOX Sports Florida / FOX Sports Sun 2020 Suncoast Emmy Winners:
Sports – Feature/Segment
Kids Day History
Ross Leviton, Ariel Cosio
FOX Sports Sun/Miami HEAT, Miami-Ft. Lauderdale, FL
Sports – Program – Live
Miami HEAT Kids Day Pregame Show
Edward Ballard, Kristen Hewitt, Jason Jackson, Arnold Speaks, Jr., Jose Cisneros
FOX Sports Sun/Miami HEAT, Miami-Ft. Lauderdale, FL
Sports – Program – Live
Tampa Bay Rays Salute to the Troops Pre-Game
Brad Bartle, Mark Rickles, John Tackett, Rich Hollenberg, Tricia Whitaker
FOX Sports Florida/FOX Sports Sun, Miami-Ft. Lauderdale, FL
Sports – Program – Live
Tampa Bay Lightning Live: Lightning Opening Night
Brad Bartle, Doug Yalacki, Paul Kennedy, Bobby Taylor, Dave Andreychuk
FOX Sports Florida/FOX Sports Sun, Miami-Ft. Lauderdale, FL
Sports – One-Time Special
The Flashback – Wade Retirement Ceremony
Edward Ballard, Arnold Speaks, Jr., Jason Jackson, Eric Reid, Will Manso, LaVaughn Wright
FOX Sports Sun/Miami HEAT, Miami-Ft. Lauderdale, FL
Promotion – Program – Campaign
Fun with Marbles
Jason Pallante, Josh Hanson
FOX Sports Florida/FOX Sports Sun, Miami-Ft. Lauderdale, FL