Capsules of Wolves players on training camp deals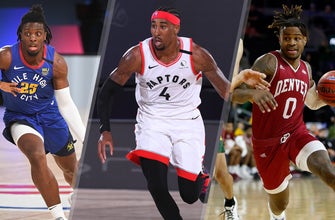 The Minnesota Timberwolves announced their training camp roster the other day, which includes the familiar faces of returning players – and one making his return after a brief absence – and a few rookies, including No. 1 overall pick Anthony Edwards.
Three are also three players with Minnesota on training-camp deals, hoping to make enough of an impression to land a contract with the Wolves, with another team or maybe land with the Wolves' G League team in Iowa.
Here's a capsule look at those three players:
More Timberwolves coverage
Tyler Cook
A bruiser at 6-foot-8, 255 pounds, Cook was a three-year starter at Iowa where he averaged 14.1 points and 6.7 rebounds per game. As a junior in 2018-19, he averaged 14.5 points and 7.6 rebounds.
Cook left Iowa early, declaring for the 2019 NBA draft. However, he wasn't selected and was signed by Denver.
After playing three games for the Nuggets in the Las Vegas Summer League, he was signed to a two-way contract by Denver but waived during training camp.
Cook was claimed by Cleveland, played in a handful of games with the Cavaliers, had his contract converted to a two-way deal, waived a couple of days later then re-signed to the Cavs and assigned to their G League team in Canton. He ended up playing in 13 games for Cleveland, totaling 54 minutes.
He averaged 13.3 points and 5.9 rebounds over 22.2 minutes in 22 games for the Canton Charge before being traded to the Oklahoma City Blue, where he dipped to 11.6 points and 5.0 rebounds over 18.4 minutes in seven games.
Denver signed Cook to a substitute contract in June. He played in 19 minutes in two regular-season games for the Nuggets and four minutes of one playoff game.
Rondae Hollis-Jefferson
A former first-round pick in 2015 (No. 23 overall), the 6-6 swingman has plenty of NBA experience.
Hollis-Jefferson, who played at Arizona for two years before turning pro, fractured his ankle as a rookie and played in just 28 games. From 2017-19, Jefferson averaged 10.5 points and 6.0 rebounds in 24.0 minutes with the Nets.
His best season came in 2017-18, when he averaged 13.9 points, 6.8 rebound and 2.5 assists while shooting 47.2% from the field in 68 games.
Hollis-Jefferson signed with Toronto as a free agent and this past season averaged 7.0 points and 4.7 rebounds in 60 games, with six starts, over 18.7 minutes per game, the latter being a career low.
Hollis-Jefferson appeared in five playoff games for the Raptors, but averaged just 2.8 points over 7.8 minutes.
He is, however, not a strong 3-point shooter, having made just 21.3% of his attempts from downtown over his career (44 of 207).
Ade Murkey
A 6-5 shooting guard, Murkey is a Minneapolis native who played for St. Croix Lutheran High School, where he left as the school's all-time leader in assists and steals while also setting the single-season scoring mark as a senior.
Murkey played at Denver, where he was a three-year starter beginning as a sophomore.
As a senior he averaged 18.6 points, 6.3 rebounds and 2.1 assists in 31 starts, shooting 48.1% from the field, including 49.9%. His 34 steals were second best in the Summit League while his 22.1 points per game in conference play was tops.
Murkey was named to the All-Summit League's second team.