Bucks sign Merrill, four other players to complete training camp roster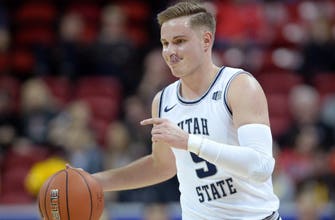 The Milwaukee Bucks completed their 20-man roster heading into 2020-21 training camp by signing five players: Treveon Graham, Sam Merrill, EJ Montgomery, Justin Patton and Nik Stauskas.
Merrill, the 60th overall pick of the 2020 NBA draft, was signed to a reported two-year deal worth $1.4 million in guaranteed money. The 6-foot-5 guard starred at Utah State from 2016-20 and was named the 2018-19 Mountain West Player of the Year.
Graham has played 180 career games for Atlanta, Brooklyn, Charlotte and Minnesota. Last season, Graham averaged 4.4 points and 2.7 rebounds per game in 55 contests for the Timberwolves and Hawks.
Montgomery was signed as an undrafted free agent. He played two seasons at Kentucky and averaged 6.1 points and 5.4 rebounds per game as a sophomore in 2019-20.
Patton, a first-round pick by Minnesota in 2017, has appeared in nine NBA games.
Stauskas, the No. 8 overall pick in 2014, logged 5.9 points and shot 3-pointers at a 37.2% clip last season for Portland and Cleveland.