Bucks sign Jaylen Adams and Mamadi Diakite to two-way contracts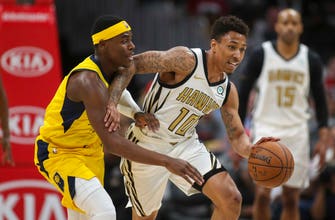 The Milwaukee Bucks have added to their team by signing guard Jaylen Adams and forward Mamadi Diakite to two-way contracts on Tuesday.
Adams, a 6-foot-2 guard, was a key member of the Wisconsin Herd during the 2019-20 season. In 33 games with the Herd, he averaged 21.5 points, 5.7 assists, 3.8 rebounds and 1.8 steals per game. Adams also shot 48.6% from the floor and connected on 40.7% of his shots from long range.
Those efforts helped him become the NBA G League MVP runner-up and an All-NBA G League first team selection. Adams was later signed by the Portland Trail Blazers for the NBA season restart and played in three playoff games for Portland.
He went undrafted out of St. Bonaventure in 2018 and signed a two-way deal with the Atlanta Hawks. In the 2018-19 season, he played 34 games for the Hawks.
Diakite is entering his first year in the NBA after playing college basketball for the Virginia Cavaliers. He was part of the Cavaliers' 2019 NCAA National Championship team and was named to the 2019-20 All-ACC second team and All-ACC defensive team.
Diakite, a 6-9 forward, averaged 13.7 points, 6.8 rebounds and 1.3 blocks per game as a senior. He shot 47.8% from the field and 35.7% from deep as a senior.
Diakite brings a defensive presence to the floor as well. He was a semifinalist for the Naismith Defensive Player of the Year award in 2019-20 and his 156 blocked shots are second-most in Virginia program history.