Bucks officially request waivers on Ersan Ilyasova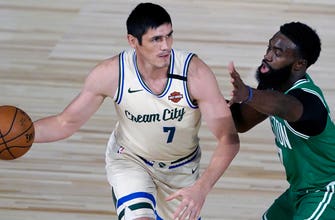 The Milwaukee Bucks officially requested waivers on forward Ersan Ilyasova, the team announced Thursday.
With a deadline looming Friday on Ilyasova's $7 million team option for the 2020-21 season, the Bucks opted to go in a different direction.
In 2019-20, Ilyasova played 63 games (eight starts) for the Bucks and logged 6.6 points and 4.8 rebounds per game while shooting 36.5% from 3-point range.
The move marks the end of Ilyasova's third stint with the Bucks. Selected in the second round (No. 36 overall) by Milwaukee in 2005, Ilyasova debuted in 2006-07 season with the Bucks, returned again from 2009-15 and also spent the last two seasons in Milwaukee.
Ilyasova has played 583 of his 808 career NBA games with the Bucks.