Bucks NBA draft profile: Tyrese Maxey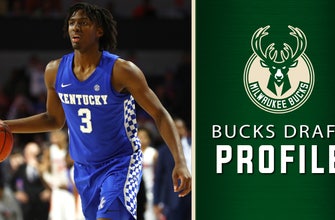 Winter is approaching and the days are getting shorter. That means the 2020 NBA season is almost here!
Due to the redone 2020 season schedule, the NBA draft will be held Nov. 18 while the 2020-21 season will begin Dec. 22.
The Milwaukee Bucks own the No. 24 overall selection in the draft. Who might they be interested in with that pick?
In this edition, we take a look at Kentucky guard Tyrese Maxey.
Bucks NBA draft prospect profiles
OVERVIEW
A top-10 overall recruit coming out of South Garland High School in Texas, Maxey will become the latest one-and-done player from Kentucky. In 31 games for the Wildcats last season, Maxey made 28 starts and averaged 14.0 points, 4.3 rebounds and 3.2 assists per game while shooting 42.7% from the field. Maxey's best game came against rival Louisville on Dec. 28 in which he scored 27 points on 9-of-14 shooting (4 of 5 from deep) and added seven rebounds and one assist. The 20-year-old was a bit of a roller coaster from the field, shooting above 50% in 11 contests but also posting four games with zero, one or two makes from the floor, including his final game in a Kentucky uniform (seven points on 1-of-11 shooting against Florida on March 7). Maxey was named to the SEC All-Freshman team as well as the All-SEC second team by coaches.
He could become the 30th Kentucky player taken in the first round since John Calipari became the Wildcats head coach in 2009-10.
COMBINE
Maxey was one of five Kentucky players invited to the 2020 NBA combine but opted out and did not participate.
MEASURABLES (via NBA.com)
Height: 6-foot-3
Weight: 200 pounds
Wingspan: 6-7 3/4
FILM ROOM
WHAT THEY'RE SAYING
"Spending time playing both on and off the ball in Kentucky's three-guard lineups, Maxey did much of his scoring as a shooter relocating on the perimeter and by making a consistent effort to sprint up the floor in transition.  He also fared well creating for himself and others as a secondary ball handler in the pick and roll as his combination of quickness and ability to make shots from all over the floor shined for stretches of his freshman year.  Having some ups and downs from the field, the Wildcats whose offense thrived when he was delivering from the perimeter." — NBA.com
"Scoring guard. Not someone you want running an offense given his average vision and not great feel for passing. Not someone you want running PnRs for, though a more spaced floor might help unlock some roll passes…which would be a threat given his touch on lobs. Should be able to play off-ball and on-ball pretty comfortably, but on-ball would be more of a scoring load and not as a creator role. Should be played next to other primary creators who can get looks for teammates, whether it's a big, another G, or a wing…otherwise, he'd have to be in an offense that has a system that manufacturers looks, because Maxey is not someone who can really do that." – Spencer Pearlman of The Stepien
"Quick decision maker. … Solid at driving and dishing. … Does a nice job of feeding teammates with lobs on the move. … Shows an advanced ability to hit runners in the lane, an important attribute considering his lack of explosiveness. … Has a patented one-handed push shot that he utilizes within 10-12 feet of the basket when he gets space. … Clever playmaker. … Speed in the open floor and imagination to make quick and creative decisions makes him an effective transition player." – Evan Tomes of NBADraft.net
HOW HE FITS
Maxey checks off an important box. From Anthony Davis to Karl-Anthony Towns to, even more recently, former Whitnall High School star Tyler Herro, there's one golden rule in NBA drafts: Select. Kentucky. Players. Although the Bucks have drafted three Wildcats since 2003 – Keith Bogans, Jodie Meeks and Doron Lamb – they were all second-round picks. Anyway, Maxey's athleticism could fit in well with the Bucks. With his skill of driving and dishing, Maxey could find success in Milwaukee slashing towards the hoop and finding perimeter shooters like Khris Middleton and Brook Lopez on the outside.