Bucks fall to Dallas 128-112 in second preseason game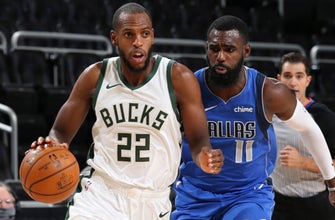 The Milwaukee Bucks lost a second consecutive preaseason game, falling to Dallas 128-112 on Monday night.
Giannis Antetokounmpo finished with 24 points and 14 rebounds, a night that should have been better except for his 1-for-7 shooting from the free-throw line. Khris Middleton scored 13 points.
Luka Doncic had 27 points, eight rebounds and four assists, while Josh Richardson chipped in 23 points and seven assists for Dallas.
As a team, Milwaukee shot 36.4% from deep (12 for 33) and 60.9% from the free throw line (14 of 23).
The Bucks return to action Friday night when they visit New Orleans for their preseason finale. The game tips off at 7 p.m. and will be televised on FOX Sports Wisconsin.