Blues to open limited ticket sales Thursday for games of Feb. 2-7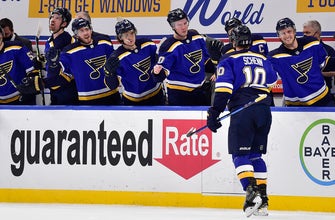 The St. Louis Blues will allow ticketed fans to start attending games of Feb. 2-7, the team announced Wednesday.
The Blues already were welcoming fewer than 300 front-line workers, families and friends of players, hockey staff, team employees and essential personnel to attend games. Such individuals, none of them paying customers, again will be invited, but attendance at Enterprise Center will be increased to 1,400 fans for the next homestand.
Future growth in the number of fans at Enterprise Center will be determined by ongoing evaluation of public safety measures and continued improvement in key local COVID-19 metrics.
"Our team looks forward to bringing fans back to enjoy Blues hockey with us in person when we return home," said Chris Zimmerman, the Blues' president of business operations and CEO. "Through the partnership with local health officials and the continued compliance of safety protocols by all members of our team and staff, this marks an important step in responsibly returning our dedicated fans to Enterprise Center. We can't wait to see and hear more of them back in the stands."
Fans will be seated in pods of two to four seats on the plaza level at Enterprise. Fans will also be seated on the PNC Premier Level, which includes suites, the Bommarito Automotive Group Lounge and Bull and Bear by Stifel.
A pre-sale of tickets for the Feb. 2-7 games will begin Thursday to season ticket holders. Access to the pre-sale will be determined by season ticket holder tenure, contract length and plan type.
Enterprise Center has implemented operational changes and health and safety protocols that include mobile-only ticketing, the requirement of face coverings being worn at all times and the institution of a cash-free environment.