Blues re-sign Austin Poganski, Mitch Reinke to one-year, two-way deals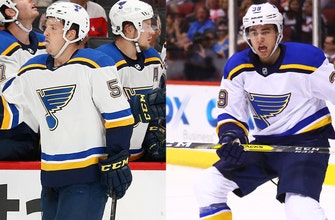 ST. LOUIS — The Blues ensured Sunday that they'll have two intriguing prospects back in the organization next season, announcing that they've signed forward Austin Poganski and defenseman Mitch Reinke to one-year, two-way contracts. Both players were restricted free agents.
Poganski and Reinke, both 24, have each played one game in the NHL while spending the majority of the past two seasons in the AHL with the San Antonio Rampage. Poganski has 20 goals and 43 assists over 119 career AHL games. He made his NHL debut last Dec. 10 at Buffalo. Reinke jumped straight from college to the NHL, debuting on March 31, 2018, just one week after signing with the Blues as an amateur free agent out of Michigan Tech. He has 17 goals and 50 assists with a minus-25 rating over 122 career AHL games.