Bateman opts out of remainder of Gophers' 2020 season to prepare for NFL draft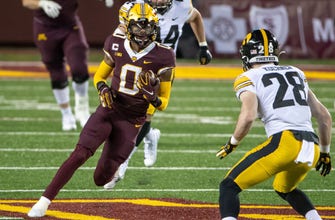 Rashod Bateman's time in Minnesota has officially ended.
The Gophers star wide receiver announced Wednesday his plans to leave the program and turn his focus to the 2021 NFL draft.
The news comes shortly after Minnesota's rivalry game against Wisconsin, originally scheduled for Saturday, was canceled Tuesday due to a coronavirus outbreak in the Gophers program.
"After further dialog with Coach Fleck and my family, we decided that after this most recent COVID-19 outbreak and the cancelation of this weekend's game, that it made the most sense to begin to focus on the next stage of my career," Bateman said on Twitter.
Bateman originally opted out of the 2020 season, but then decided to rejoin the team and received clearance to play from the NCAA in late September. In five games this season, he hauled in 36 receptions for 472 yards and two touchdowns.
Over three seasons with Minnesota, Bateman caught 147 passes for 2,395 yards and 19 touchdowns. His breakout season last year — 60 receptions for 1,219 yards and 11 scores — earned him the 2019 Big Ten receiver of the year award and boosted his status as a promising NFL prospect.
"Minnesota has changed me forever, and the lessons I learned in the 'Row the Boat' culture will stay with me for the rest of my life," Bateman said. "There is no better coach to play for in the nation than Coach Fleck, and I appreciate everything he has done for me."
The Gophers' next game on their schedule is set for Dec. 5 against Northwestern.