Badgers have 14 active COVID-19 cases; limited conditioning resumes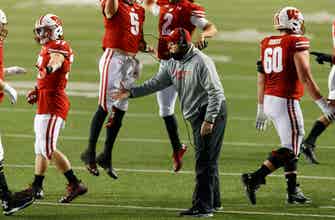 The number of active COVID-19 cases on the Wisconsin Badgers is lessening and the team resumed some football activities Friday, according to a release issued by the athletic department Saturday.
In the past four days of testing, there have been two more positive tests – one player and one staff member.
There are currently 14 active cases – nine players, five staff members – with five of those positive tests occurring in the past week.
Wisconsin last gave an update Tuesday. At that time there 27 active cases (15 players, 12 staff). All football activities had ceased Oct. 28, when the initial positive cases were announced.
On Friday, the team took part in limited conditioning drills with physical distancing with everyone – players and coaches – all donning masks. The team plans on having another conditioning session Saturday.
In addition, more lockers have been added to a nearby area, allowing for more physical distancing among the players.
The Badgers have already canceled two games – at Nebraska and vs. Purdue. Wisconsin, ranked 10th in the Associated Press top-25 poll despite having played just one game, is scheduled to play at No. 23 Michigan next Saturday at 6:30 p.m.
The Big Ten requires teams to play at least six games to be eligible for the league championship game. If the average number of conference games played by all Big Ten teams is below six, programs must play no less than two fewer league games than that average to be considered.
"We don't leave ourselves much wiggle room right now, and we know that," athletic director Barry Alvarez said last week. "But hopefully we can get this corralled and get back on the field and playing."
The latest update provides a glimpse of hope that Wisconsin will be back playing next week.