Badgers give up three goals in second period, fall to ASU 8-5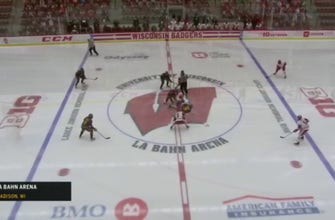 The Wisconsin Badgers went up 2-1 in the first period against the Arizona State Sun Devils, but surrendered six goals in the final two periods to lose 8-5.
The Badgers (4-3) were also shorthanded in this game. Todd Milewski of the Wisconsin State Journal reported that four players missed the game because of COVID-19 concerns.
Wisconsin got on the board quickly with a score from Brock Caufield just 2:35 into the game. After a goal from the Sun Devils, Owen Lindmark scored his first goal of the season to put the Badgers up 2-1 with 6:54 to go in the first period.
.@lindy2201 scores his first goal of the season 👏#OnWisconsin pic.twitter.com/XQ60dTPWI2

— FOX Sports Wisconsin (@fswisconsin) November 29, 2020
ASU (1-3-1) added another goal in the period to enter the first intermission tied 2-2. The Sun Devils were just getting started and scored three unanswered goals in the second period to lead 5-2 going into the third period.
ASU scored in the first four minutes of the third to go up 6-2, but Wisconsin's Jack Gorniak made it 6-3 when he sniped in a goal with 14:37 left in the game.
.@gorny11 cuts into the ASU lead with a third period snipe!#OnWisconsin pic.twitter.com/QtXlx1kJcQ

— FOX Sports Wisconsin (@fswisconsin) November 29, 2020
The Badgers were not finished in the third. Lindmark scored again with 11:13 left and Linus Weissbach found the back of the net with 4:04 to go, cutting the Sun Devils' lead to 6-5.
That would be as close as Wisconsin would get, however, as ASU scored two more times in the final three minutes to win 8-5.
The Badgers will be back in action for the second game of their two-game series against the Sun Devils on Sunday at 4 p.m. in La Bahn Arena. That game will be televised on FOX Sports Wisconsin.