'Art of Words' piece celebrates 50 years of Brewers baseball
If a picture is worth a million words, every piece of art by Dan Duffy must be worth, well, at least a trillion.
Duffy, the founder and artist behind "Art of Words," has been creating unique sports art for over a decade. His latest piece, released Sept. 30, celebrates the 50th season of the Milwaukee Brewers in 2020.
From a distance, Duffy's piece looks like a beautiful portrayal of Milwaukee fans walking into Miller Park, the Brewers' home ballpark since 2001. But look closer, and you'll find levels of depth that will fill your fix of Brewers nostalgia.
Every fan, tree, cloud and pillar of the stadium is made up of thousands of letters, forming the names of all 919 players who've appeared in at least one game in the history of the Brewers franchise, dating back to the lone season of the Seattle Pilots in 1969. With each player's name written chronologically from the top left corner to the bottom right, the piece takes the viewer through a journey of Milwaukee baseball.
The first player written at the top is right-hander Jack Aker, who appeared in 15 contests for the Seattle Pilots in 1969. The last player written in the bottom right corner is catcher Omar Narvaez, who debuted for Milwaukee in 2020. Robin Yount's name can be found right above "Miller Park" in a cloud. Nyjer Morgan, a Brewers fan-favorite and hero of Game 5 of the 2011 NLDS, can be spotted right below the bald spot of the man wearing the Ryan Braun jersey. Reliever Grant Balfour, who pitched all of 2 2/3 innings for Milwaukee in 2007, is on there.
That's right. Every single player is represented, even if they just had a cup of coffee with the Crew.
"We look for great reasons to do pieces," Duffy said. "We thought this would be a great piece of memorabilia with the 50th anniversary of the Brewers. We had this one on our radar, even coming into last year."
For Duffy, the idea for "Art of Words" all started with Ryan Howard, Chase Utley and the 2008 Philadelphia Phillies. The Phillies beat Tampa Bay in five games to claim their second World Series title in franchise history and their first since 1980.
Duffy, an avid Philadelphia sports fan and a graduate of the Hussian School of Art in Philly, wanted to create something to immortalize the historic victory. He remembered an exercise from school in the unit of pointillism, a painting technique popularized by Georges Seurat in the late 1880s in which small dots of color represented a bigger picture of something else. In the project, Duffy wrote small letters, and those letters became an image. The more letters used meant more detail could be included.
So, Duffy wrote out every result of the Phillies' 2008 campaign, beginning with a season-opening 11-6 loss to Washington and ending with the World Series-clinching 4-3 victory over Tampa Bay. The letters depicted Phillies closer Brad Lidge falling to his knees after recording the final out of the year.
He showed the concept to his then-girlfriend, now wife, and she thought the piece would make a great gift for her father, who was also a big Phillies fan.
And thus, "Art of Words" was born.
At first, it was just a side project for Duffy. In 2009, he'd go down to Citizens Bank Park and sell his art on weekends in the Philadelphia Eagles parking lot (which, as he explained, is still the place to be even when tailgating for a Phillies game).
"It was a little side money, a little beer money," Duffy said. "We'd go down, hang out with tailgaters, and we'd have people tell me they love my art work and hand me money. And then we'd just try to avoid getting arrested. It was great."
Eventually, Duffy started selling his work at a flea market. As he created more and more different pieces, he finally ran out of Philadelphia legends to portray. (Yes, he did create a tribute to  Rocky Balboa.) He expanded first to Baltimore, and then it grew from there. He's done everything from writing out the date, score and opponent of every win at Michigan Stadium to scribing the lyrics of "Born to Run" into a portrait of Bruce Springsteen.
But, of course, Duffy is a fan first, artist second. There are some lines he just won't cross. Duffy has three teams he won't touch – the Dallas Cowboys, Pittsburgh Penguins and Ohio State Buckeyes.
"If I can stick with those three, and make peace with all of the other teams, eventually I'm going to have to," Duffy said.
Now an officially licensed artist with Major League Baseball, Duffy's wordy creation is his full-time job at "Art of Words," which currently has four full-time employees in addition to himself.
"Here we are, 11 years later," Duffy said. "It's become a dream come true, no doubt about it."
When he chose to commemorate the Brewers and Miller Park, he scoured the internet for the perfect angle of the ballpark to draw up.
From there, Duffy completed a basic pencil drawing of the ballpark. After that was finished, he worked out some math on the number of Brewers names in the piece and how many letters he could fit on each line. A member of the "Art of Words" team used MLB.com and baseball-reference.com to surf through every Brewers roster. Once a complete list of all 919 players was compiled, it was handed to Duffy to begin scribing.
Duffy wrote every single Brewers name lightly at first, with a pen, and then finally went back and added color to the letters to finish off the project.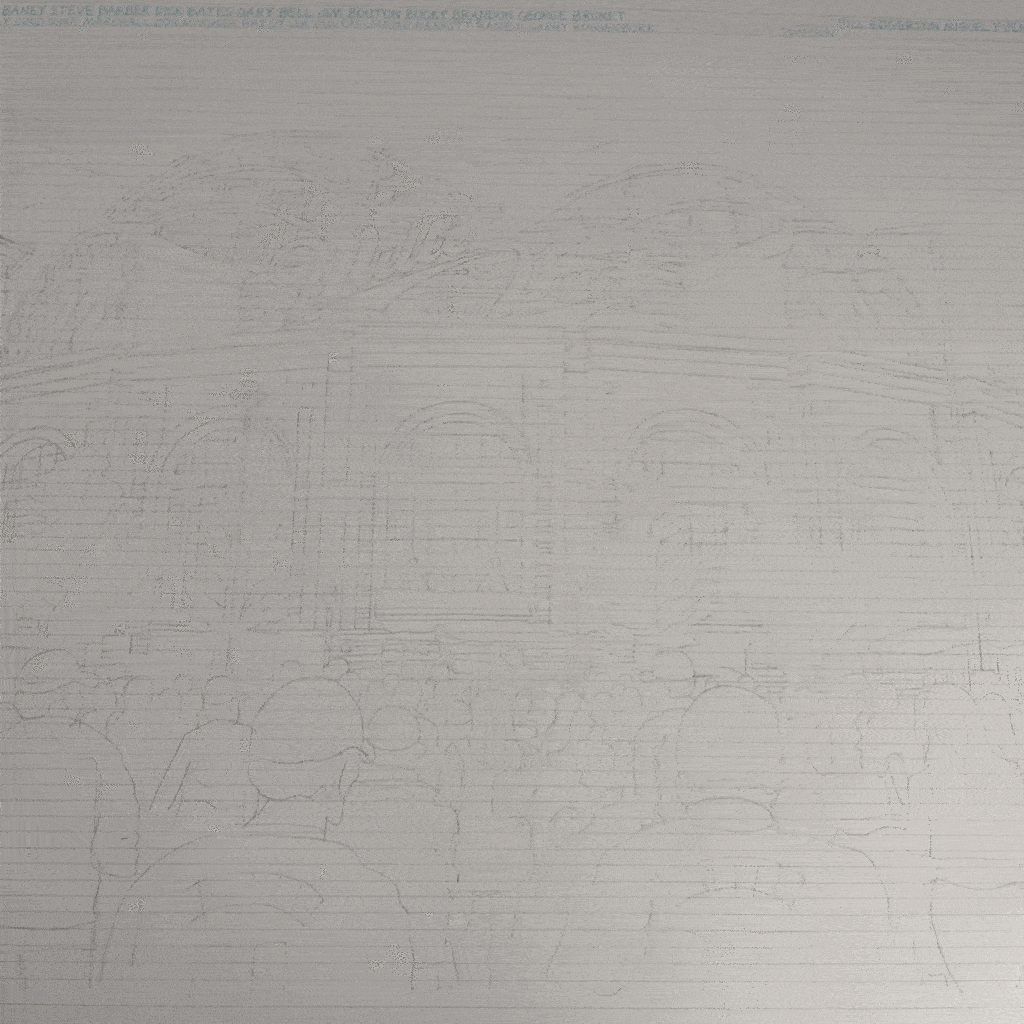 He worked somewhere between 150-200 hours on the Milwaukee piece.
"There was a time when I thought it would be cooler if I did less words," Duffy said. "I could make more pieces of art. But it's going the opposite way. I think it's cooler to kind of freak people out a little bit. 'You wrote what?'"
Not only does this piece serve as a tribute for the first half-century of Brewers baseball, but it also immortalizes the famous "Miller Park" sign outside the ballpark, which likely won't be standing much longer in Milwaukee.
The contract between Miller Brewing and the Brewers, which had been ongoing ever since Miller Park replaced Milwaukee County Stadium in 2001, expired at the end of the 2020 season. American Family Insurance will take over as the naming rights sponsor of the stadium in 2021, the first season of a 15-year deal.
"It's such a cool-looking stadium," Duffy said. "The name [Miller Park] will be changing soon, so I wanted to create a tribute piece so fans will remember this stadium as Miller Park for years to come."
Determined to make a difference with his art, part of the proceeds from Duffy's Miller Park piece will benefit the Midwest Athletes Against Childhood Cancer (MACC Fund), an organization which has contributed nearly $70 million dollars to childhood cancer research. The Brewers have partnered with the MACC Fund for years.
"What's cool about [the piece] is it takes you back to when you saw those guys play," Duffy said. "It's also great for conversation starters. A lot of people have told me how you can a have a grandfather with two other generations in the same room teaching the others about his favorite players."
And just like that, the stress of holiday shopping for Brewers fans ceases to exist.
For a closer look at the Miller Park piece or to visit the "Art of Words" website, click here.