5 Wild players added to NHL's COVID-19 protocol list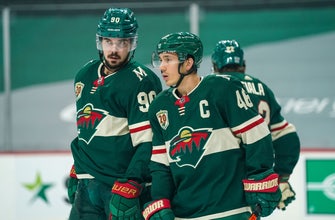 The same day the NBA announced zero positive results among 482 players tested since Jan. 17, several NHL teams had players added to that league's COVID-19 list, including the Minnesota Wild.
Nick Bjugstad, Nick Bonino, Joel Eriksson Ek, Marcus Johansson and Jared Spurgeon were added, making it six for the Wild. They won't be available for practices, travel or games until they are removed from the protocol.
The five join Wild forward Marcus Foligno on the list.
Minnesota is back in action on Thursday, Feb. 4, facing the Colorado Avalanche.
The "COVID Protocol Related Absences" can be the result of a number of factors including, among others: (1) an initial positive test which remains unconfirmed until confirmatory testing is completed pursuant to the Positive Test Protocol; (2) mandated isolation for symptomatic individuals pursuant to the Positive Test Protocol; (3) required quarantine as a high-risk close contact in accordance with the Positive Test Protocol; (4) isolation based on a confirmed positive test result and/or; (5) quarantine for travel or other reasons as outlined in the COVID-19 Protocol.